I'm beyond excited to have Marla Frazee visit Tuesday Tours today! I have been an admirer of Marla's work since The Seven Silly Eaters (written by Mary Ann Hoberman) and Mrs. Biddlebox (written by Linda Smith)—one of my all time favorites. Through the years I've been incredibly impressed by Stars (written by Mary Lyn Ray) and two other all-time favorites of mine, All the World (written by Liz Garton Scanlon) and God Got a Dog (written by Cynthia Rylant). I'm not the only one enamored with Marla's artwork, a number of her books are NYTimes Bestsellers, she's a Golden Kite winner, and has taken home two Caldecott honors for All the World and A Couple of Boys Have the Best Week Ever. I was fortunate to meet Marla at the SCBWI LA Conference this August and get my own signed copy of her newest book The Farmer and the Clown. Today she shares with us her cozy cottage in California where she creates her award-wining illustrations, as well as her in-house writing room where she works on penning new and fabulous stories.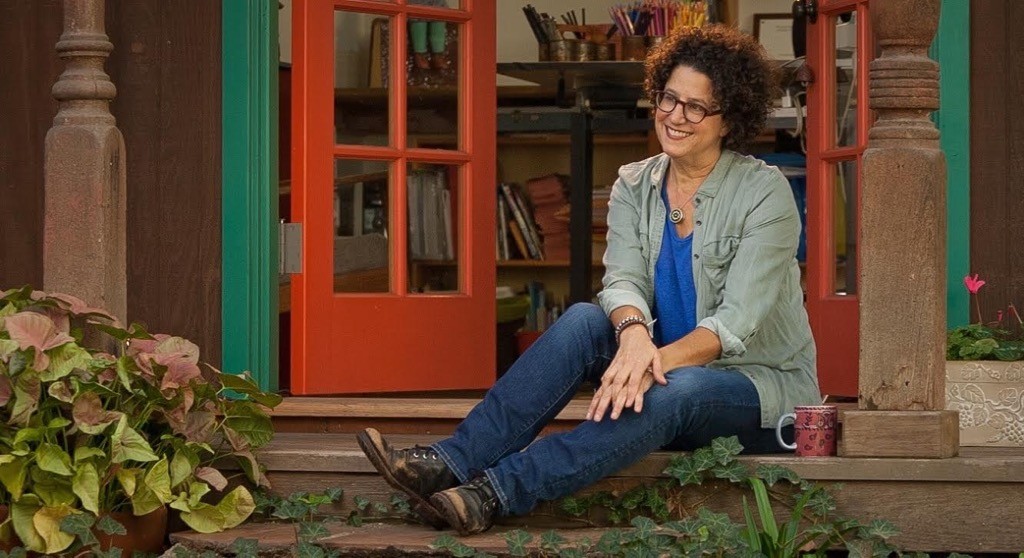 Tell us a little bit about yourself and your creative medium.
I'm a children's book author and illustrator. It's what I've wanted to do since I was a kid and I feel very lucky that I've spent most of my working life doing it. It did take me a long time to get published, however. During those somewhat frustrating years, I worked in commercial illustration. Most of the projects I did even then were directed toward children (Disney, Mattel, Milton Bradley, lots of text book stuff), but my heart has always belonged to picture books—and now that's pretty much my focus.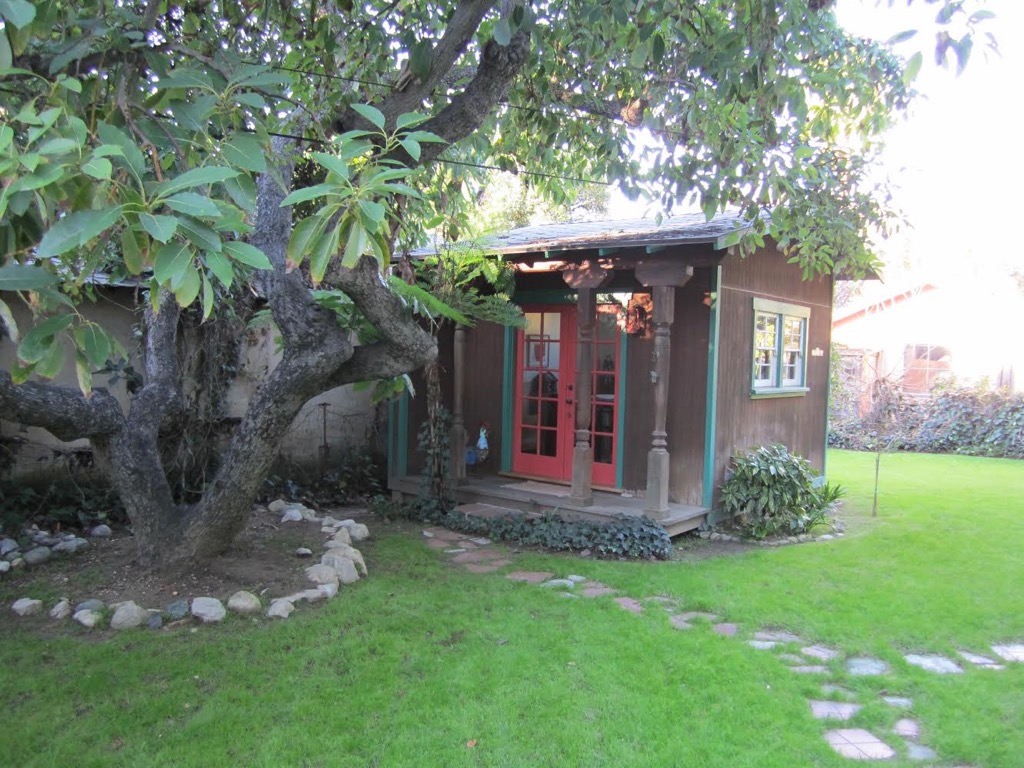 How long have you had your space and how does it affect your creative process?
My studio was built by a guy named Tony during the last months of 2000. I did a couple of quick drawings of what I imagined, and he made it happen. I've been in it since January 2001. My three (now grown) sons were born and raised in the house I still live in and for a long time all three of them shared a room with a triple bunk bed. At that time my studio was one of the three bedrooms inside the house. That was great when they were little, but it was terrible when they were approaching the teen years.
Making the decision to build a separate studio, especially at a time in our family's life when money was extremely tight, was one of the hardest things I had to come to terms with—as a mom. There was just no precedent for it in my whole extended Lebanese family. It felt selfish. And yet, I knew deep down that it was the right decision. Not only for me, but for my sons. They saw firsthand how much I loved it, how productive I could be in it, how passionate I was about my work, and how building a life around creativity was possible. Now that they are all out of in the world living their own highly creative lives, I recently turned the bedroom that used to be my studio into a writing room. So I draw and paint in my outside studio. And I write inside. I really love moving back and forth between the two spaces.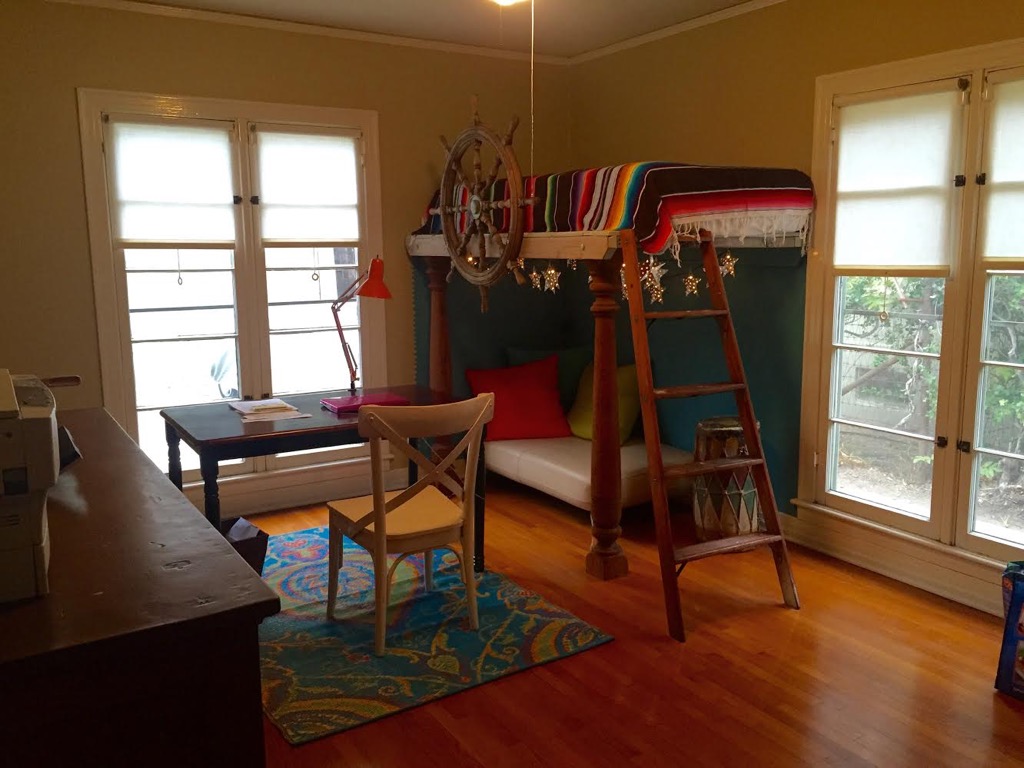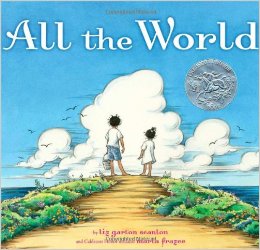 If you could live inside the world of one of the picture books you've illustrated, which one would it be and why?
Oh, All the World. When I received Liz Garton Scanlon's evocative text, I was worried about illustrating a book about "all the world"—how is that even possible? Instead I thought about the times when I have felt that I was very much a part of the world—and it's always been when I'm either with people I love, in a place I love, or both. So I set the book in one of my favorite places in the world, the central coast of California. And I populated it with characters who clearly are connected to each other in a variety of ways. I would be happy to live in that book. Maybe in that house by the pier.
If you had to pick a quote to hang above your desk for inspiration, what would it be?
I have a letter from a kid named Charlie Higgins taped up right behind my drawing table. To me, Charlie represents the picture book reader I am trying to reach. The child who is perhaps still struggling to read and write words, who is full of gratitude for the books they love, and most importantly, is a master at reading pictures and will happily study the pictures for story, for meaning, for details. Sometimes in the middle of puzzling out something, I will think about Charlie Higgins and all the kids like him and ask myself if Charlie would like what I'm doing. Would he laugh? Find it fascinating? Or, god forbid, would it bore him? He is my touchstone, even though I never met him.
What advice do you have for people who want to make a personal space where they can be creative?
Just do it. Don't feel guilty for wanting it. Make it yours. Claim it. (Especially if you are a mom.)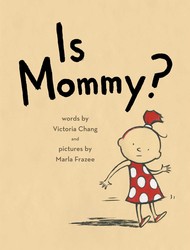 What's coming up for you and where can we find out more?
My fall book is called Is Mommy? It is written by Victoria Chang, an accomplished adult poet. I did the illustrations in tempera paint on manila paper. It's a primal, joyful, funny take on the very honest feelings kids sometimes have about their mommies.
Thank you, Marla—your studio cottage is adorable! I'm so glad I had the chance to meet you in person this past August, and I'm looking forward to getting my copy of Is Mommy? when it comes out!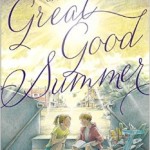 Join us next week when Liz Garton Scanlon (author of Caldecott-wining book All the World) shares her writing space in Austin, Texas.
If you'd like to get monthly updates on Tuesday Tour guests, please subscribe to my mailing list.