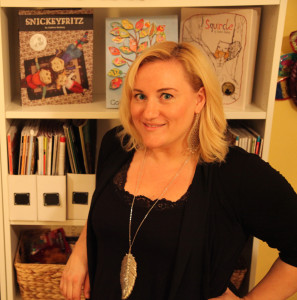 I create books—sometimes with tape, sometime with a needle and thread, and sometimes by engraving metal. But whatever the method for illustrating each book, I always aim to include collaboration, creativity, and kindness.
My picture books—Shimmerling, CommuniTree, Squircle and Snickeyfritz have won national awards including two Mom's Choice Awards, a Moonbeam Award, and a Next Generation Indie Book Award Finalist.
I have a unique method for creating my books, collaborating with hundreds of students to illustrate and sometimes write the story. I love visiting schools as an artist educator because I believe encouraging children to use art and writing to understand themselves and others leads to more empathetic people and therefore, a better world.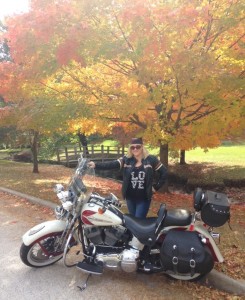 Before publishing my first book, I was the art curator at the University of Wisconsin-Milwaukee's Union Art Gallery. I currently serve as the Society of Children's Book Writers and Illustrators (SCBWI) Co-Regional Advisor for the state of Wisconsin, and run the weekly blog feature Tuesday Tours, which showcases the studios of artists and writers.
I live with my husband Michael Greer and our two daughters in Milwaukee, WI. In addition to making books, I love riding my Harley, rocking out in a Zumba class, singing karaoke, and going to festivals—especially ones where I get to dress up in a costume.

What to know more? Check out some of my interviews:
KidLit411: Illustrator Spotlight