I'm excited to welcome award-winning author Pat Zietlow Miller to Tuesday Tours. Pat wrote one of my favorite books–Sophie's Squash (illustrated by Anne Wilsdorf), which is one of those beautifully told stories that, as a parent, you don't mind reading again and again when your child just can't get enough 🙂 Today Pat shares her Madison home office where she's worked for the last seven years during her road to publication. Her story is truly inspiring–she heard 126 no's before she got her first yes, but she didn't let the rejection stop her. In her mind, it just meant the work wasn't ready yet, and she loved writing, so she kept plugging away. Now, after the great success of Sophie's Squash, Pat has seven new books coming out, starting this April with Wherever You Go (illustrated by Eliza Wheeler), a beautiful looking book about the possibilities that lie beyond the next bend in the road, which is the same road that also leads you home.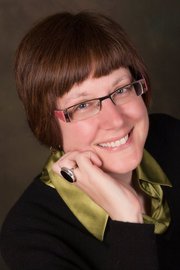 Tell us a little bit about yourself and your creative medium. I write picture books. It's what I've wanted to do for as long as I can remember. I got serious about it seven years ago, and it took me four years of writing, revising, submitting and being rejected to sell my first book, Sophie's Squash, to Schwartz & Wade. Sophie's Squash did well, winning the Golden Kite award and being an honor book for the Charlotte Zolotow Award and the Ezra Jack Keats New Writer Award. That was thrilling, and now I have seven other picture books that will be coming out in the next few years. It's really been a dream come true. I hope to be doing this for many, many years to come.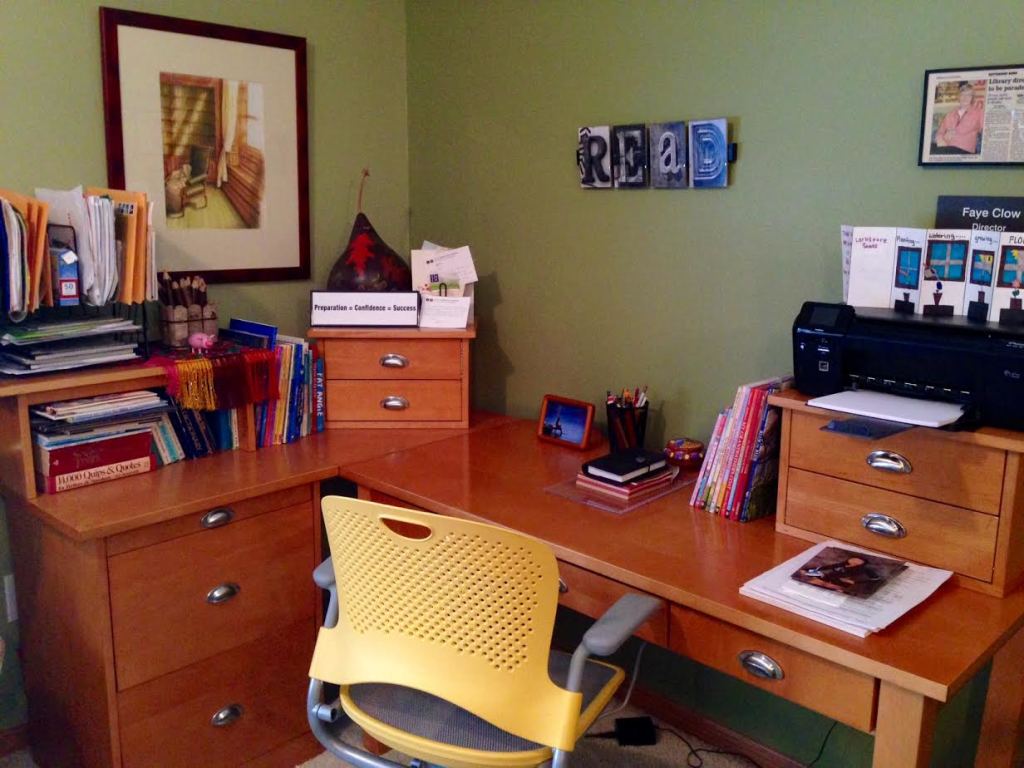 How long have you had your space and how does it affect your creative process?I've had this space for four years or so. Before then, I wrote throughout the house. I still do that, but it's nice having a spot that is specifically mine and that can be a permanent home for all my book-related stuff.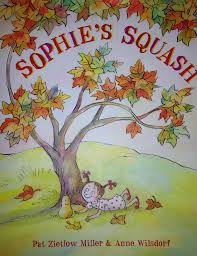 Describe a typical work day. Do you have any rituals you do before you start creating?
I know it would sound much more impressive if I said I ate green eggs and ham, chanted the text of Goodnight Moon and then bowed in the direction of Kevin Henkes' house before I started writing, but I don't. I just open my laptop and start. Usually, I write in the evenings because I work during the day.
What's the biggest distraction when you're writing? How do you deal with it?
My biggest distraction is the rest of my life and finding time to write. I have two very active kids, an upcoming high school graduation to plan, a full-time job, endless piles of laundry and a house that seems to cause groceries to evaporate within seconds of their arrival. Sometimes, I just have to ignore all the stuff I think I should be doing and write anyway.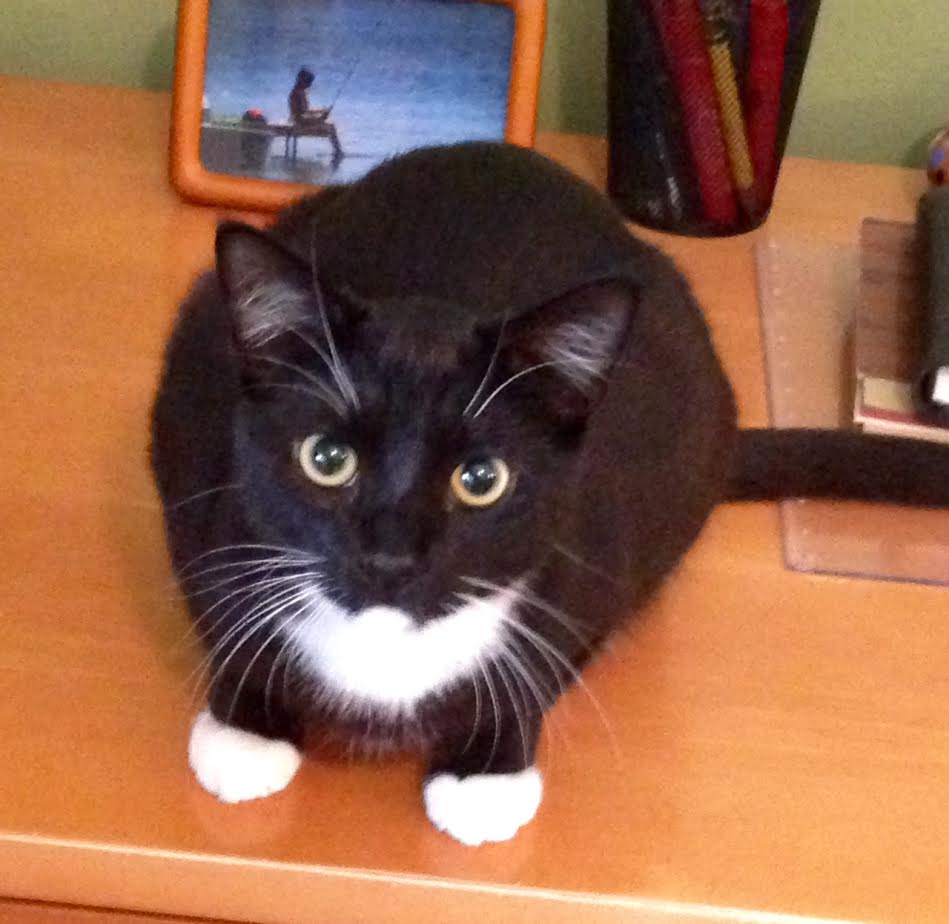 Does music influence how you work? What's on your playlist now?
I don't listen to music while I write because it's too distracting. But when I'm not writing, I love music. Show tunes, Top 40, a cappella, oldies. My current favorite song is "Uptown Funk."  Listening to it makes me smile. Plus, it has great lines like "Smoother than a fresh jar of Skippy." (Feel free to hum along …)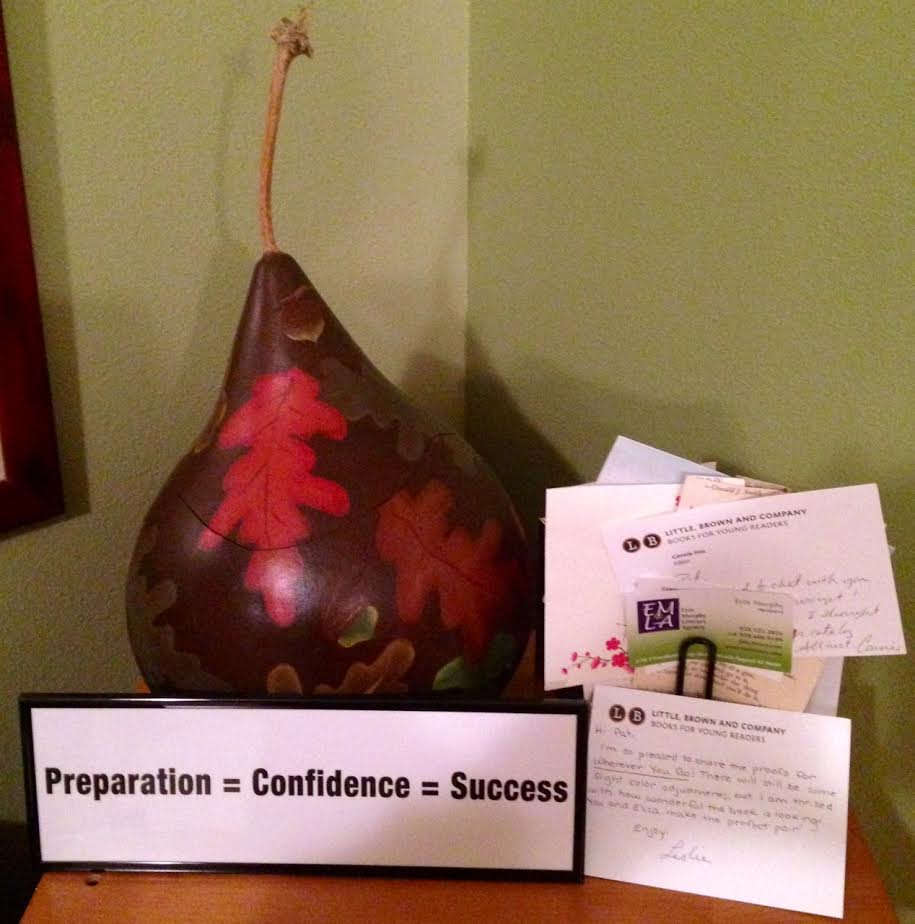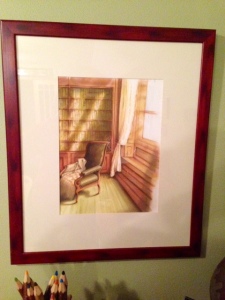 Is there any special item/trinket in your space that inspires you?
I have several items that belonged to my aunt, Faye Clow, who was the director of the Bettendorf Public Library. Two of my favorites are the nameplate from her desk and a piece of artwork that shows a chair by some bookshelves. I like to imagine I'm in that chair reading quietly. Faye loved books. She always gave me books when I was growing up and was very supportive of my writing.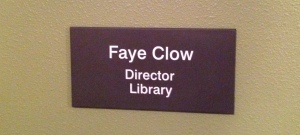 I also have a sign from my day job at an insurance company that says "Preparation = Confidence = Success." It's a good reminder.
And, I keep some of my very favorite books on my desk in hopes their good writing karma will rub off on me.
Is there a favorite drink or food that you have while you work?
I normally don't eat or drink while I'm writing. That happens when I get stuck and I get up and wander around by the pantry.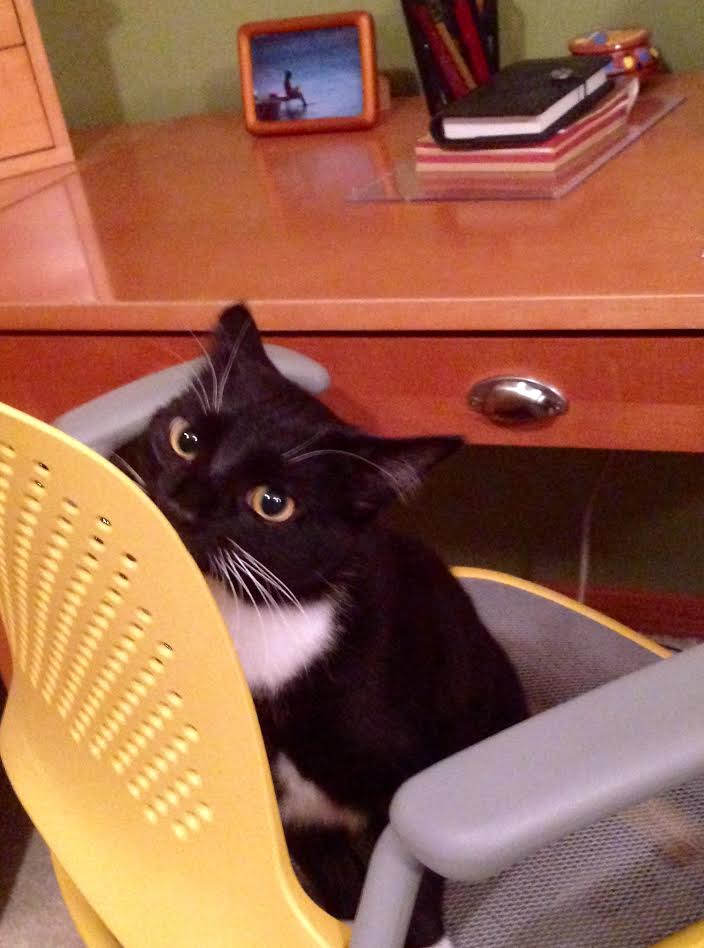 What are the three best things about your writing space?
1. It's warm and comfortable. 2. I can lose myself in whatever I'm working on. 3. My cats sometimes sit next to me while I write.
How do you organize your books/bookshelf? Is there a formula you use?
I organize books by height, with the tallest on the left down to the shortest on the right.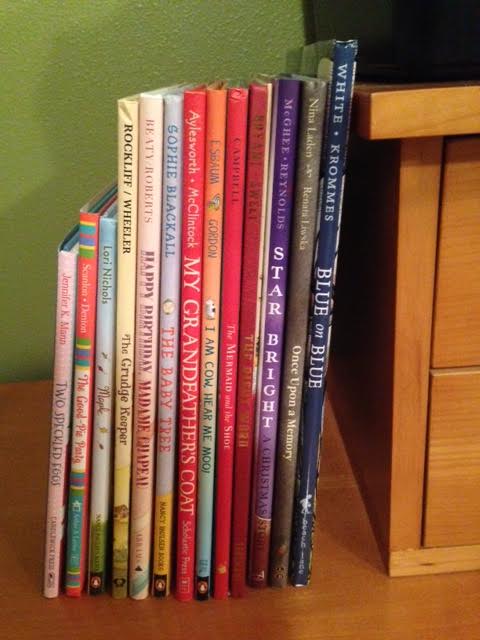 What advice do you have for people who want to make a personal space where they can be creative?
While it's nice to have a specific space that's all your own, you can be creative anywhere. Don't be so worried about creating the perfect space that you forget to do the creative work. I've written books largely at my kitchen table surrounded by dirty dishes. It's nice to have somewhere nicer, but it's not necessary.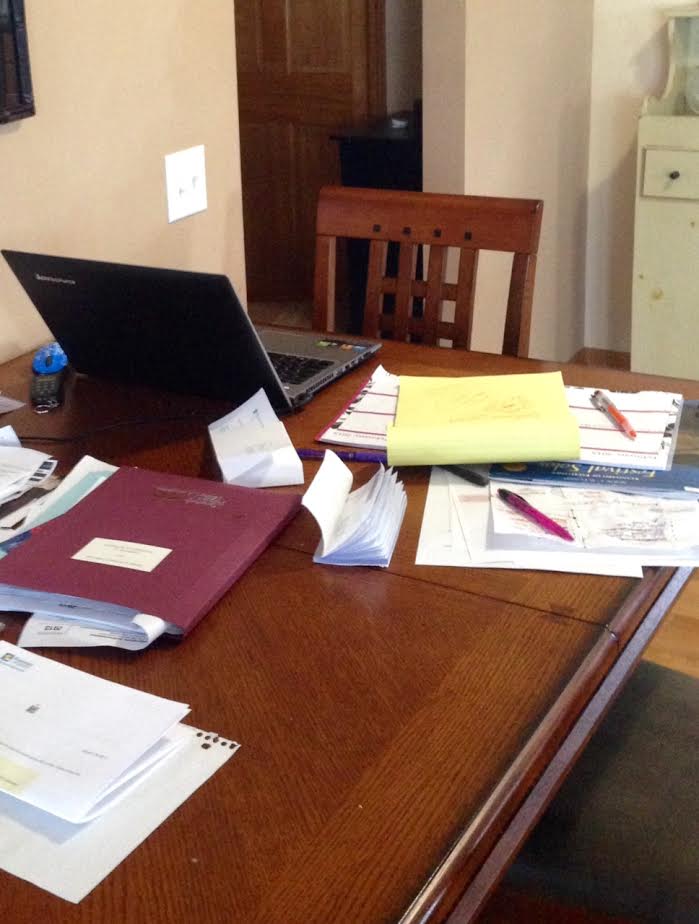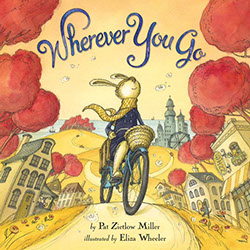 What's coming up for you and where can we find out more?
My second picture book, Wherever You Go, comes out April 21 from Little, Brown. It's a book about all the paths you can take in life. I wrote it in anticipation of my daughter Gwen's high school graduation – which is in May. It's for young children, but it also contains a lot of things I want Gwen to remember and know as she moves on to college. It's illustrated by Eliza Wheeler, and her artwork is truly, truly lovely.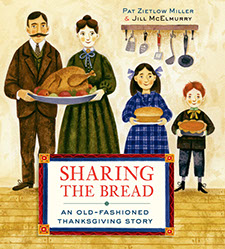 I have other books coming out after this one, and you can learn about them at my website, http://www.patzietlowmiller.com. I also blog about picture book writing at http://www.picturebookbuilders.com with some other talented book creators. Check us out!
Thank you, Pat for sharing your writing space with us. I'm really looking forward to reading Wherever You Go and Sharing the Bread. You have busy year of releases ahead of you 🙂
Join us next Tuesday when we get a chance to see the beautiful home studio of creative couple Amy Arnold and Kelsey Sauber Old's!