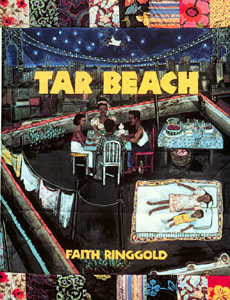 I'm very excited to announce that the artwork I'm creating for my new picture book Shimmerling will be featured in an art exhibition at Gallery@Large, along with the artwork of Caldecott winning artist and children's book author Faith Ringgold! I have always admired Faith's Story Quilts and her children's picture books. I'm so thrilled to have the chance to show my work next to hers. Faith will be visiting Milwaukee for three days during the run of the exhibition to offer workshops and an artist talk. Dates and times TBD.
Stories Shared
April 25- July 3, 2014
Arts@Large Gallery
Discover multiple ways in which stories are created and shared in this student and artist created exhibition. Explore the story quilts of nationally renowned artist Faith Ringgold, the wearable sculptural art of local artist and children's author Andrea Skyberg, and the artwork of MPS students who helped create the illustrations for Andrea's new children's book, Shimmerling.