In this week's Tuesday Tours I'm very excited to feature the studio of artist Susan Eaddy who lives and works in Nashville. Before starting her studio, ClayThings Illustration, she worked as the Art Director for an educational publisher and later, for RCA for Records Nashville, receiving a Grammy Award Nomination for her art direction. Susan creates the most magical illustrations out of clay. I'm a big fan of nontraditional art methods used for picture book illustrations, so I was drawn to her work right away. Susan's newest illustration project has been on my radar for awhile because I have connections with the author, Julie Hedlund, through Julie's 12 x12 challenge, and with the publisher Little Bahalia out of Milwaukee. I'm anxious to get a copy when it comes out in September.
Tell us a little bit about yourself and your creative medium.
I work/play upstairs in my attic studio and create all of my illustrations out of clay. Most of my illustrations are clay relief rather than 3D and my favorite medium is plasticine. I do use Sculpy from time to time, the advantage being that it can be baked and it's a permanent medium. Not so with plasticine–it melts in heat (not so great for my attic studio!). But plasticine's advantage is that it's so darn fun to work with and to watch my hands turn turquoise or bright green, and to be able to craft small details–I love the colors and the textures. There are several steps to my process. After I research, I do tight drawings, create the clay relief, photograph and finalize files in Photoshop.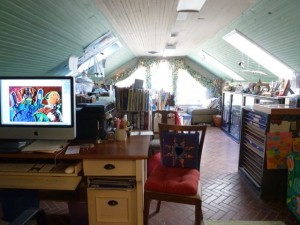 How long have you had your space and how does it affect your creative process?
I have had this studio for 20 years! Hard for me to believe. It started out as just one corner of our finished attic, and I have gradually taken over every inch of space. I have basically three different zones–one for clay, one for photography, and one for computer work.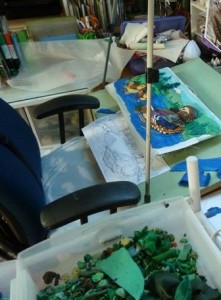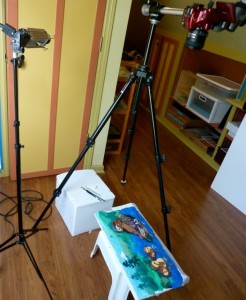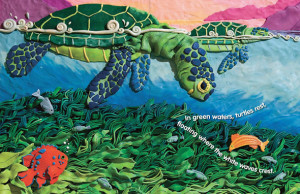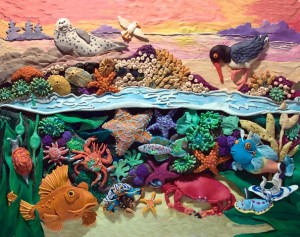 Are there any kind of rituals you do before you start creating? Breakfast. I must eat breakfast.
Is there anything you like to listen to while you're working? What are you reading/listening to now?
I can't listen to anything when I am problem solving, working out characters, or pacing. But when the sketch is complete and I get to start the clay, I listen to audiobooks of all kinds. I have listened to the entire Harry Potter series at least three times. It's a story so well told and beautifully narrated by Jim Dale. There's comfort in knowing the story and not having to concentrate too hard so I don't get distracted from my work. I often listen to children's books I have already read, or "cozy" mysteries.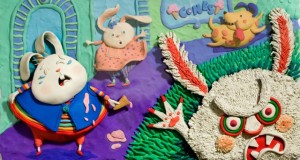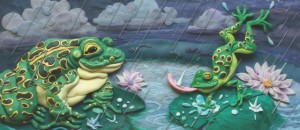 I just finished listening to the Extraordinary Education of Nicholas Benedict which I loved! Another favorite series is The Incorrigible Children of Ashton Place, which is beautifully narrated by Katherine Kellgren. Listening to books really puts me in the zone and keeps me in my chair, as I do not allow myself to listen if I am not working. I'm always reading several books at a time. Right now I'm reading Mary Poppins by Dr. P.L Travers, She Wrote, by Valerie Lawson My Reading Life by Pat Conroy and The Orphan Masters Son by Adam Johnson.
Is there any special trinket in your space that inspires you? I'm kind of a crow, and I can't help but collect objects–shiny or not. My entire studio is filled with toys, books, shells, rocks, seeds, clay leftovers, flowers, handmade animal sculptures, and much more!
If you had a couple hundred dollars to improve your space, what would you do? Ummm… insulate the old part of the attic. Unfortunately its not so much the money that's the problem,  it's the fact that I would have to tear off the beadboard walls in order to get insulation into the space. Ugh.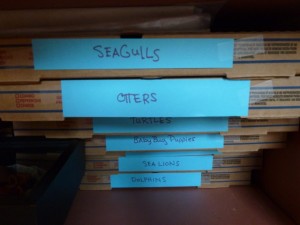 What advice do you have for people who want to make a personal space where they can be creative?
Oh, I have worked in all kinds of spaces since college–closets, back porches, corners of a bedroom. It's amazing what you can do with a tiny space. Actually I have a friend, Claudia Williams, who's a master at working in the tiniest of spaces–her space is brilliant! I feel so fortunate to have my large space now, but really, one can work ANYWHERE!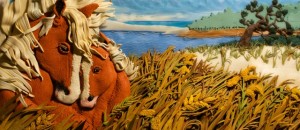 Are there any new projects you're working on and where can we find out more? I just finished all of the illustrations for Julie Hedlund's My Love for You is the Sun. Wow! Does that feel good! The book will be out in September, 2014 and is published by Little Bahalia Publishing. You find our more about me and my work at http://www.susaneaddy.com. I also love to fool around with iMovie, so I have a YouTube channel. And, I love to travel and keep a travel sketch blog.
Thank you for sharing your lovely studio, Susan. The illustrations for the new book are gorgeous. I can't wait to see the entire book when it comes out in September!