Today on 
Tuesday Tours
 I'm very excited to feature one of my favorite illustrators
Yuyi Morales
.  Yuyi is the author and illustrator of a number of
award-winning picture books
and has won the ALA's Pura Belpré Gold award four separate times—the most times this award has ever been given to one artist. It's exciting to see her winning awards for her work, which is filled with dream-like scenery, lovable characters, and sometimes, multimedia approaches. For her newest book
Viva Frida,
Yuyi created three dimensional characters and sets.
She sculpted the figures, sewed their clothes, and even welded together props
. Her husband, photographer Tim O'Meara photographed the scenes.
This approach
was used by Yuyi once before in
My Abuelita
, written by Tony Johnston. I'm a huge fan of artists who go beyond the traditional modes of illustration, experimenting with cutting edge ways to bring stories to children through art. My family's all-time favorite book illustrated by Yuyi is 
Ladder to the Moon
, written by Maya Soetoro-Ng. My daughters ask for this book again and again and they're captivated (as am I) by Yuyi's ethereal illustrations that offer us a small entrance into the magical unknown.

Tell us a little bit about yourself and your creative medium.
I make children's books. I dream them, write them, illustrate them, and love them. My most common medium for creating my illustrations is acrylics on paper, but I am very experimental. My latest book I created with 3-D illustrations utilizing puppets and figures.
I love how you experiment with art, and even when you create something with very different mediums, I can always tell it's your work. 
How long have you had your space and how does it affect your creative process?
My current studio is pretty new to me, although it is a very old construction. It is in the city of Xalapa, Mexico, where I was born. I remodeled what is called in spanish as a casa antigua, or an antique house. It was in chambers. But now it is my favorite place in the world. I just began working in this space in February.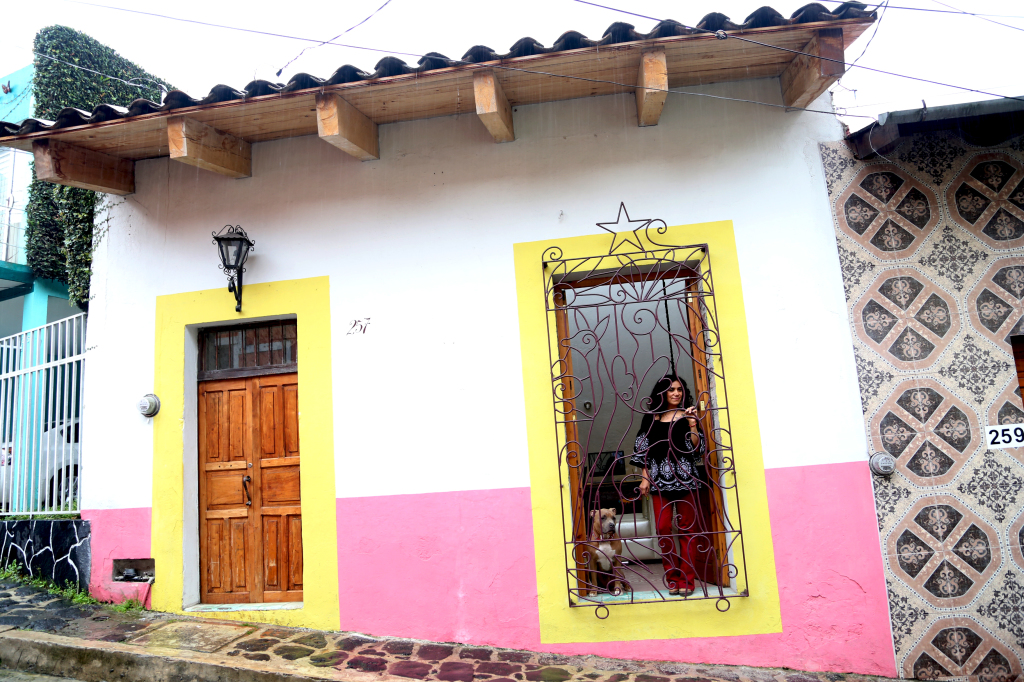 Describe a typical work day. Do you have any rituals you do before you start creating?
Breakfast at my desk is how I start my work. I check emails and do most of my communication at this time. Then there is always african dance class, either in the morning or in the evening. The dance studio is only a few blocks away from my place, so I am quickly back at work after a shower. Most of my administrative work is done  during the first part of the day, I take several short breaks, mostly for meals. I go to the market just down the block and bring fresh produces for the day. I usually eat at my desk so that I can keep creating at any time. My studio is by the street and I have a large window where many visitors, sellers, and neighbors stop-by. The rest of the day I create, I draw, I paint, and do a lot of daydreaming until the evening. I might run errands, or see friends, or walk my dogs, but I usually go back to work for a few more hours until it is time to go to bed, never before midnight and almost always past that hour.
I'm a night owl as well, which isn't always so easy when my daughters wake me up at six in the morning!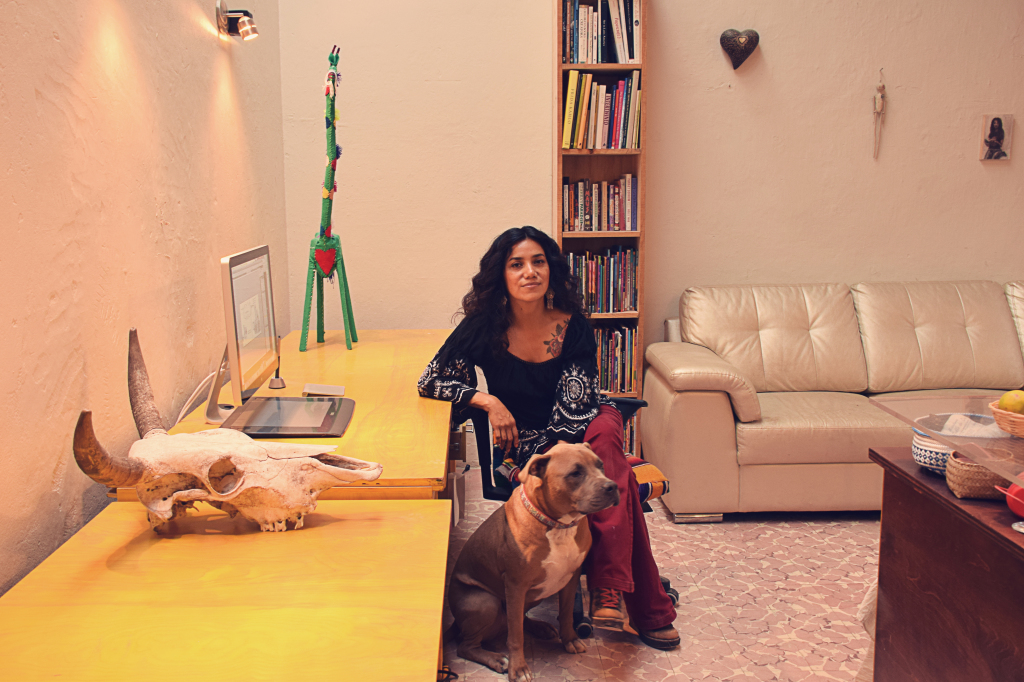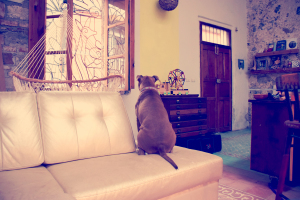 Please tell us about a time you had the most fun working in your studio.
Since this studio space is new to me, I have had only a short experience working here, but I am in love with what happens at this place. Construction work is still happening these days, and I often sit work with the street-doors open so that material and workers can come in and out (my dogs tide to my side). During several afternoons, while I am distracted working, I realize that people have come inside my studio. They are usually staring at the books on the wall, holding them open, or looking around trying to figure out what this place is. It is my dogs who  alert me of a visitor. Mothers with children, old men, teenagers, kids coming from school, and all sorts of people are there when I lift my eyes from my work. What is this place? They always want to know. Is this a restaurant? Is it a cultural center? How much are the books? Do I have books about electricity work? Do I have puppies to sell? You name it! The questions are wonderful, I always make new friends, some of them come back next time.
That must offer you some great inspiration for future stories!
Does music influence how you work? What's on your playlist now?
Music is the beat of my work. The first thing I do when I get up from bed is to come to my computer to start the music. In my playlist right now is the Cuban musician Silvio Rodrigues, Alt-J with their album an Awesome Wave, The Colombian group Bomba Estereo, the local Son Jarocho group Ensamble Marinero, LCD Soundystem, Natalia LaFourcade, the California group Quetzal, and also my son with his creations at Wax Poetic.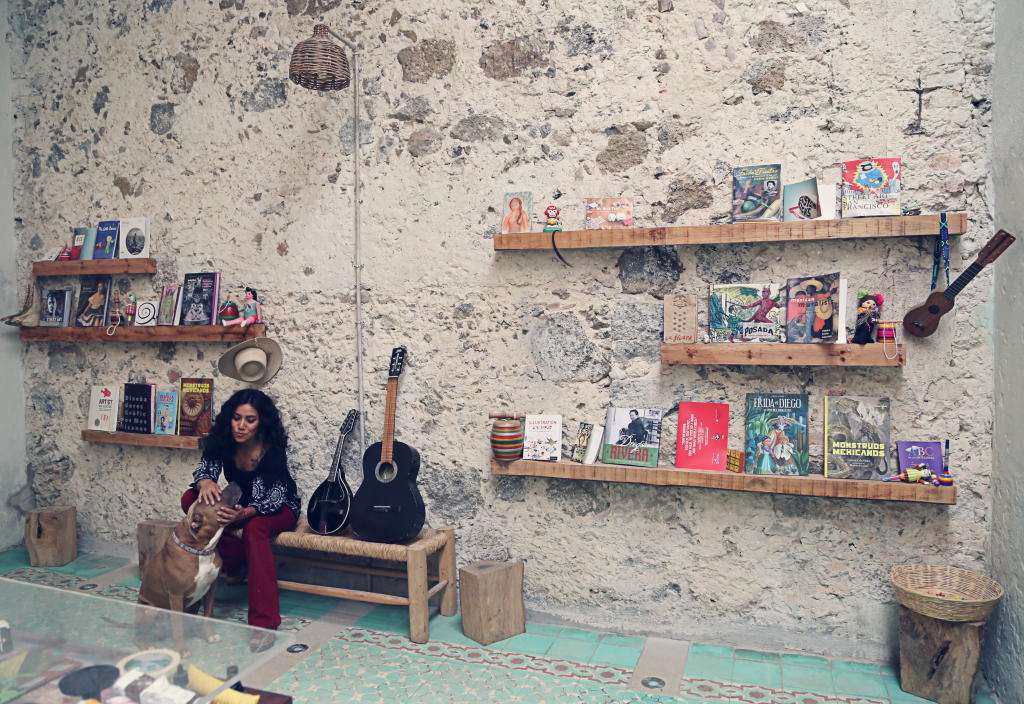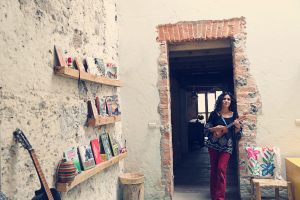 What is your greatest source of inspiration as an artist? Is there any special item/trinket in your space that inspires you?
My original source of inspiration was my son. He was just a little baby when I began dreaming of making books. He was my model, my audience, and my whole inspiration. I had a great desire to pass onto him all the stories I had brought with me when we immigrated to the USA. Nowadays, now a young man studying in NY, he is still my inspiration, but I am also very inspired by celebrations. And so I set up to start my day as if everyday is a fiesta. I celebrate the view from my bedroom window that looks at the rise of the sun, the lush wildness of my garden, the frolicking of my dogs as we start the day, the children who stop at the window to pet my dog Mojo, the sunlight coming trough the skylights in my studio, most days we celebrate the rain too. And surrounded by all this light and all these colors, I set to create.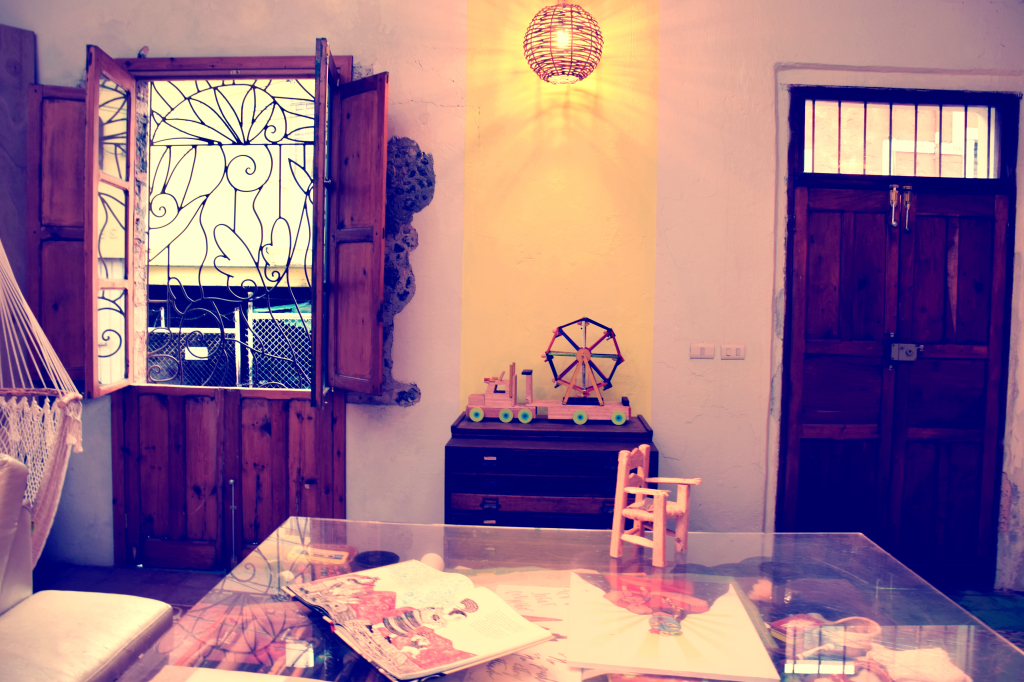 Is there a favorite drink or food that you have while you work?
Oh, yes, I live off yogurt, pineapple, and peanuts. There is also a man who comes to my window and sells me fresh cheese. At the organic store around the corner they sell me tangy arugula which I ate by the bunch. These day we are in prickle-pear season, so I eat it while I work, sprinkled with chile powder and lemon.
What are the three best things about your studio?
The window to the street where a lot of my daily social life happens, the stone walls that make me feel like I am inside a castle, and the high ceiling with its giant wood beans and the skylights that let both the light and the rain drizzle in.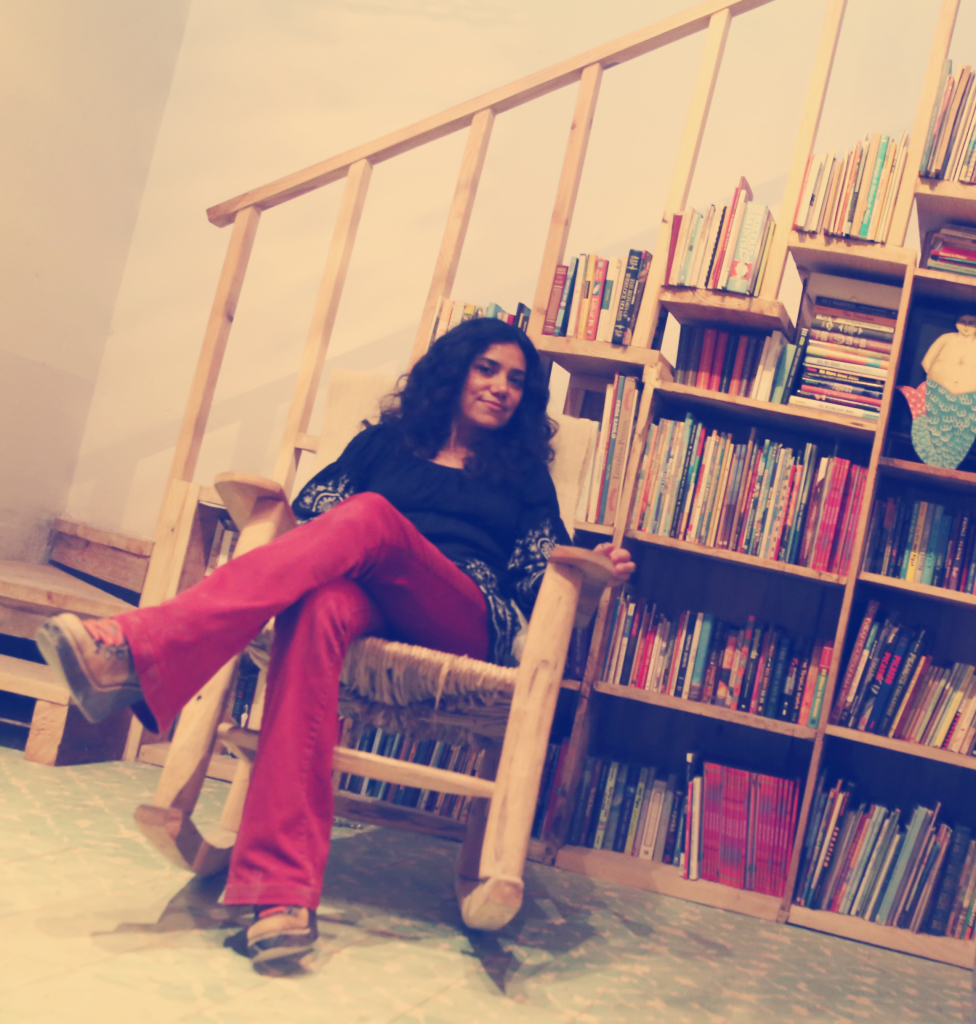 If you could add a new tool or piece of furniture to your studio, what would it be?
A place and equipment to do fire. An oven, or a melting station. Until now, both here in Mexico and before in California, I have had my studio inside my home, simply occupying the living room and making it my working space; as you can imagine that creates limits of what I can actually do in those spaces. But what I want is to have a space where I can do all kinds of rough and messy work, and perhaps even bake ceramic or melt metal. I also want it to be a place where other people can come and join me to create. That is why I am in the process of building a new room in my backyard where I will be doing all kinds messy work.
I've also found that working out of a home can create limitations, but I love your plan for an outdoor space! If I lived in a warmer climate, I might give it a shot.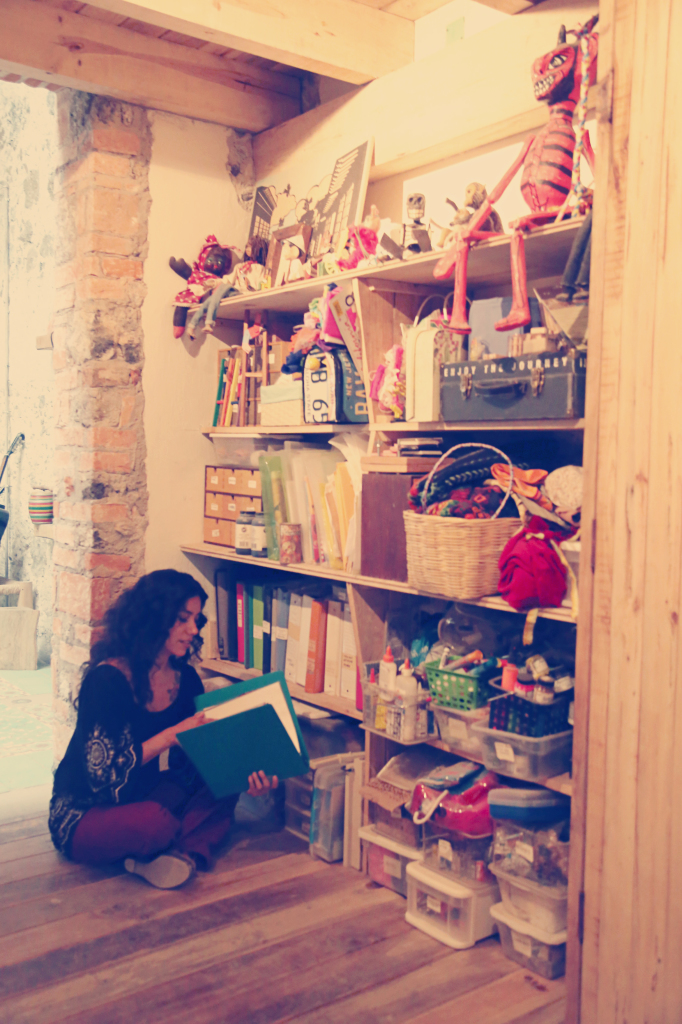 What colors inspire your creativity. Are those colors incorporated in your space?My favorite color is Mexican, hot pink, and yes, I incorporate it in my space as well as in almost anything I do.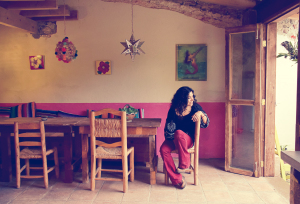 What advice do you have for people who want to make a personal space where they can be creative?
The very first studio I had was in my apartment in San Francisco where I lived with my husband and our son. For a long time my working space was the dining table, which needed to be cleaned and used in so many different ways during the day. I would put away my materials when we would eat and then when we were done I would bring them out again. Later, we moved to an slightly bigger apartment and my husband helped me to condition an small closet space with a drawing table and a stool. My first book, Harvesting Hope, was created in that tiny space. What I have learned from going from minimal working places to having the studio of my dreams is that what really maters is how I feel inhabiting such a space. And so, I would tell any one who wants to make a personal space where they can be creative, is to make sure that it is a functional space, but also an inspiring one. Have all what you need to create physically, your furniture, your tools, but also have the colors or even things that simply make you smile when you are in their presence. Creativity is already a place that we inhabit. No matter how tiny or limited it might be, make sure that such a place is the most amazing place in the world for you.
Great advice! Inspiration is a huge factor in creation, and having a space reflect that makes a tremendous difference.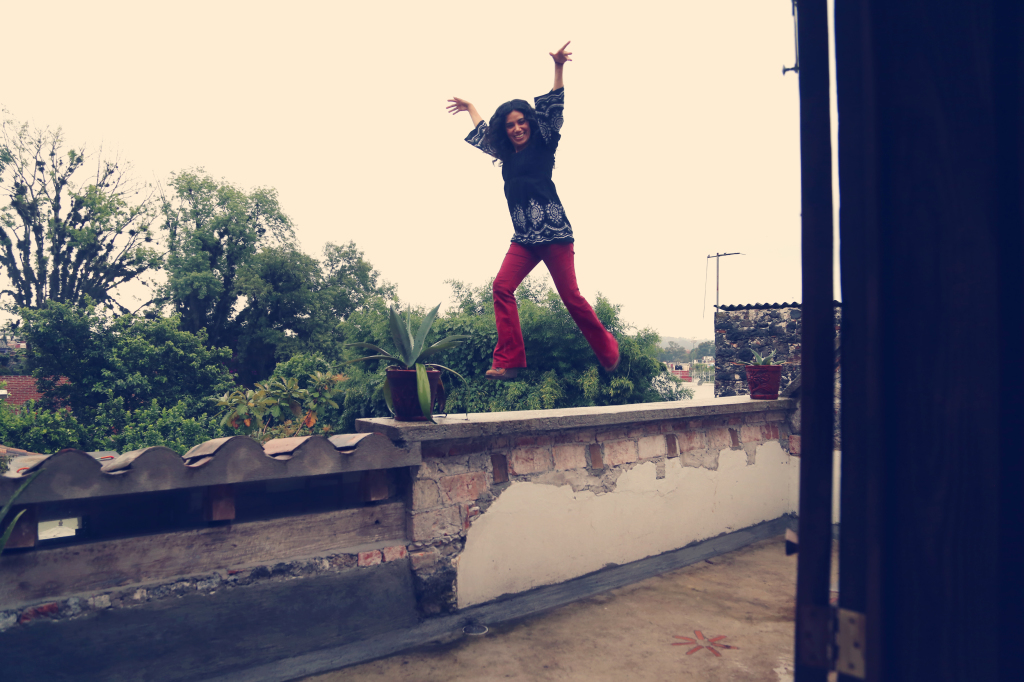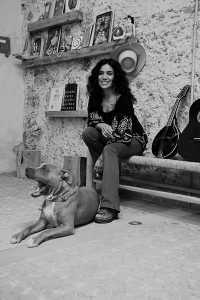 What are you working on now and where can we find out more about you?
My latest book is Viva Frida, a picture book I illustrated with puppets, paintings, photographic work from my husband, and digital work. I would call it an ode to Frida Kahlo, the Mexican painter, because this is a book I created in admiration of her creativity and work. Right now at my table there are sketches for a book written by one of my favorite authors, Sherman Alexi. This is Sherman's first picture book and I have the honor to create the illustrations for this story. You can find out more about me on my website.
Thanks for sharing your inspiring space with us, Yuyi! And best of luck with your upcoming book!