This week's Tuesday Tours features the studio space of Author and Illustrator Barbara Reid, who created one of my favorite picture books Picture A Tree, which has had numerous starred reviews, been included on some best-of lists, and has been honored on the 2014 Green Earth Book Award Short List. I love trees, as does my family, and when the publisher Albert Whitman announced a drawing contest for kids to create a tree and possibly win a copy of the book, my daughter Evey was all over it. After winning and receiving a copy of Picture A Tree, Evey was so inspired by Barbara's artwork that she spent the next six months creating a book all of her own out of clay. Evey's studio, however, is not nearly as put together and organized as Barbara's!  Barbara lives in Toronto with her photographer husband Ian Crysler, who took all of the beautiful photographs for this studio tour.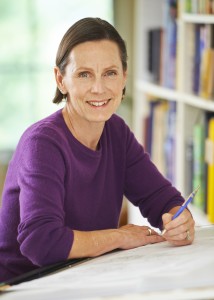 Tell us a little bit about yourself and your creative medium.
I am a picture book illustrator of more than 25 books, and the author for about 12 of those. My relief style plasticine illustrations have won numerous awards, including a Governor General's Award for Illustration and the Ezra Jack Keats Award. As a kid I was an avid reader of both words and pictures. I drew constantly. I drew on paper, walls, school desks, school work, myself, my friends, you name it. I copied pictures from books that I liked, and "improved" illustrations I didn't like; textbooks were especially tempting. I was a fast reader, so had plenty of free time to daydream doodle in school.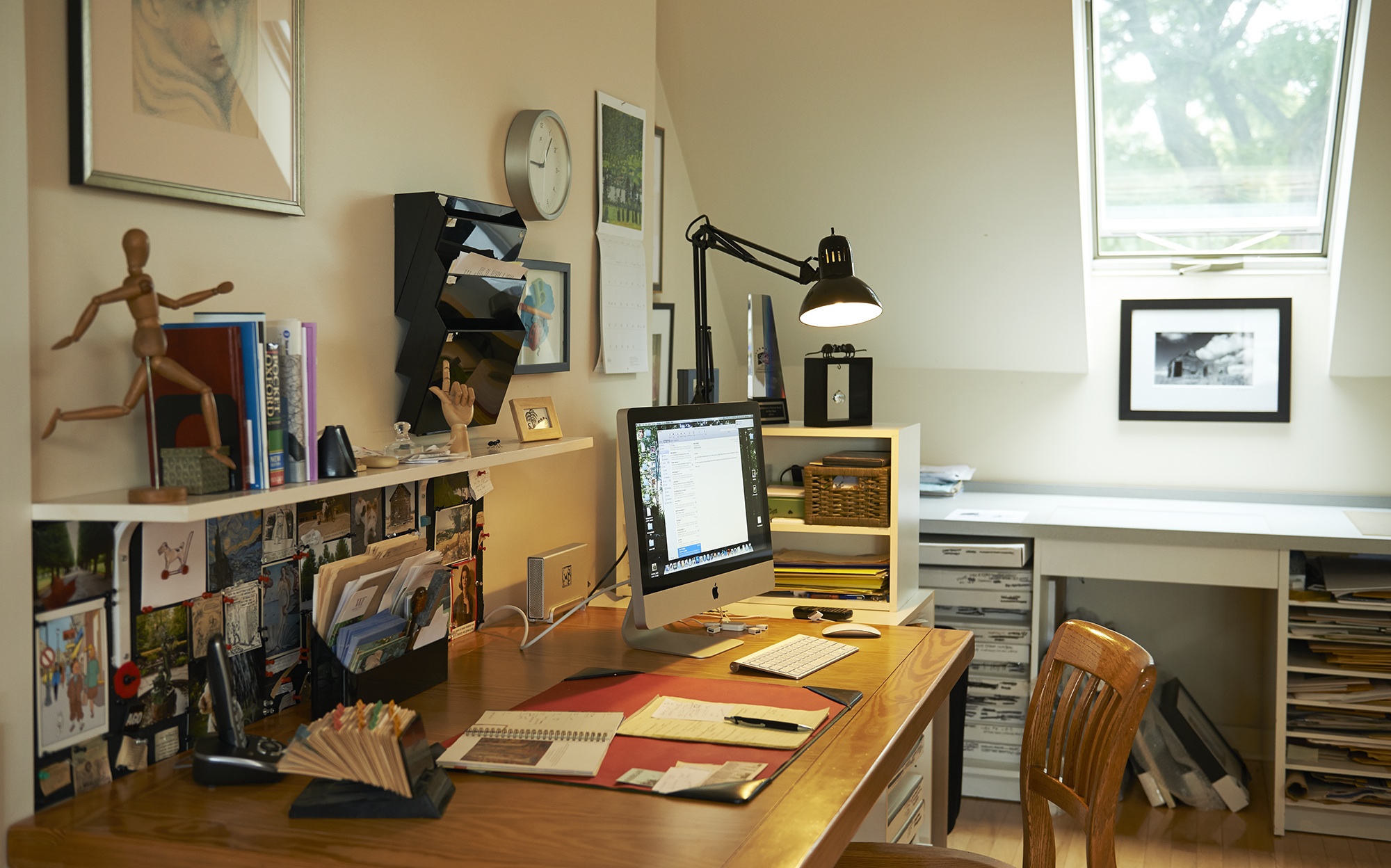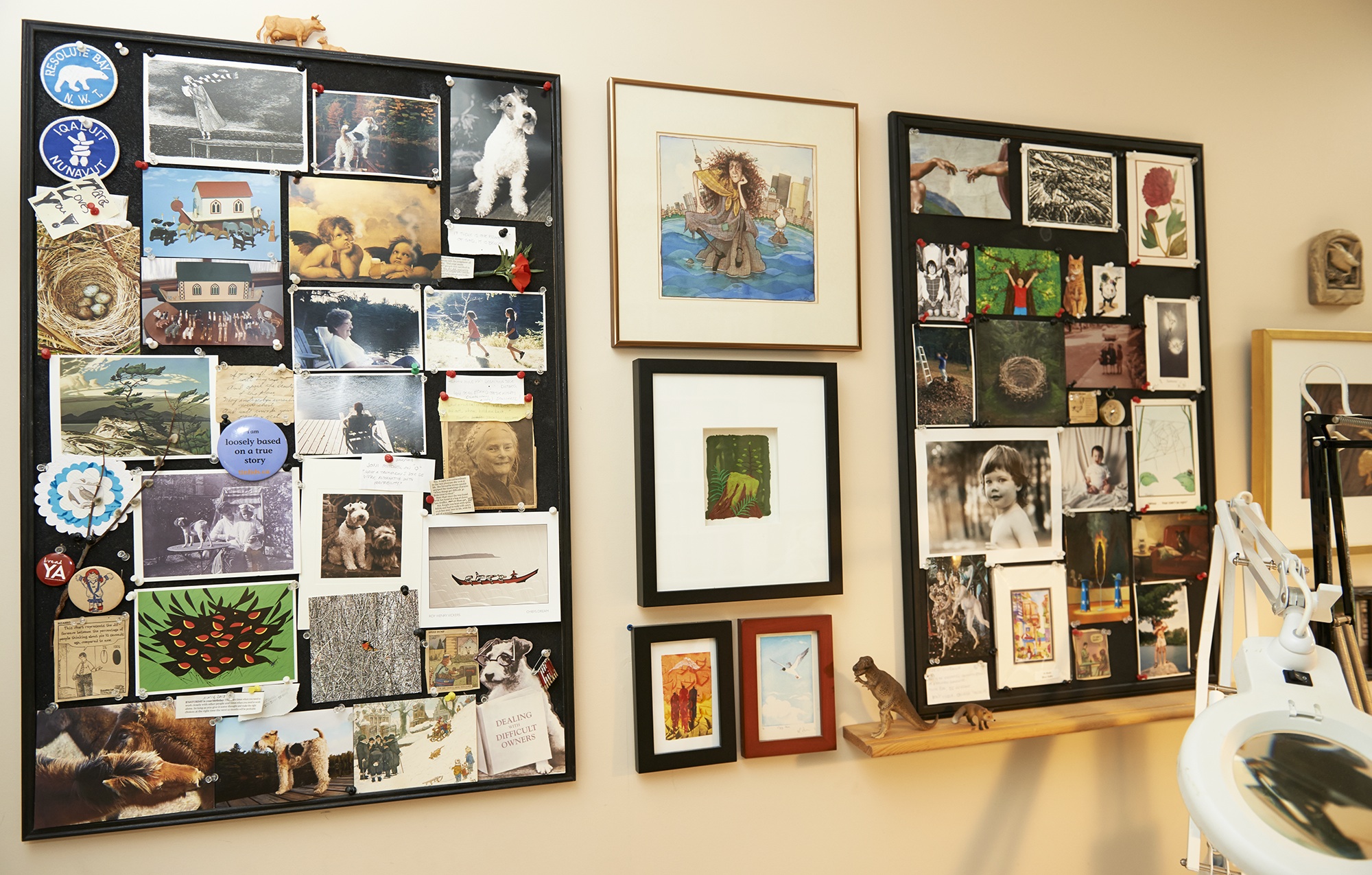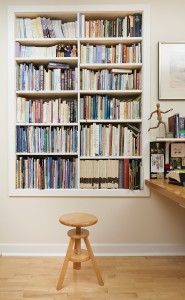 I also spent hours playing with Plasticine, the original non-hardening modelling clay. While studying illustration at the Ontario College of Art and Design, I raided my childhood plasticine stash to create a relief illustration for a project. It went over well, and plasticine art became part of my portfolio, eventually becoming my primary medium. Plasticine is a fantastic medium for expression, and I am still finding new ways to use it.  It is wonderful for creating detail, and the textures encourage the reader to spend time and look closely at each page–an illustrator's dream. Best of all, it's a kid's material. I get a huge response from young artists and see incredible student art in schools and my inbox. I first plan an illustration with drawings, then create the picture by spreading, modelling and adding texture to layers of clay on illustration board. The finished piece is  photographed and the digital files sent to the publisher. My husband Ian Crysler, is a professional photographer who does a terrific job of lighting and shooting all my work. A very handy partnership! Our two daughters have grown up through various roles: models, test readers, consultants, and editors. Very tough editors. It still surprises me that I've made a career of doing something that is so much fun. Another happy surprise is the opportunity to travel that comes with being a children's author. I have met amazing young readers, artists and writers, as well as inspiring teachers and librarians in communities across Canada and the USA . The experiences contribute to my work.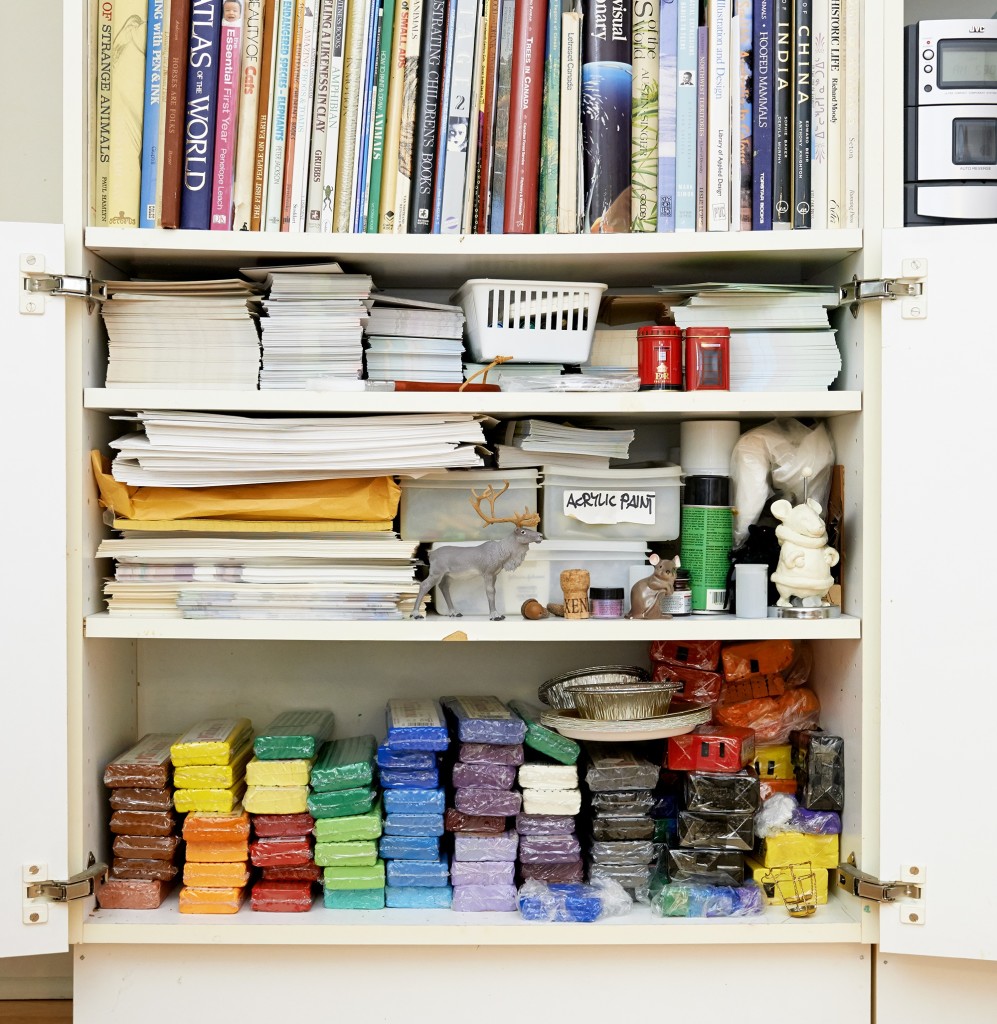 How long have you had your space and how does it affect your creative process?
I've always worked from home, my studio is on the renovated third floor of our skinny brick house in the city. We have lived in the house for 25 years. It's in a lively neighbourhood and I can walk or subway to most everything I need. There is also a park and ravine system nearby with tons of trees, birds, and wildlife. It's easy to break the isolation of working alone by going for a walk or running errands. And really, really easy to procrastinate.
Oh, yes. Procrastination is probably the easiest thing to check off the to do list!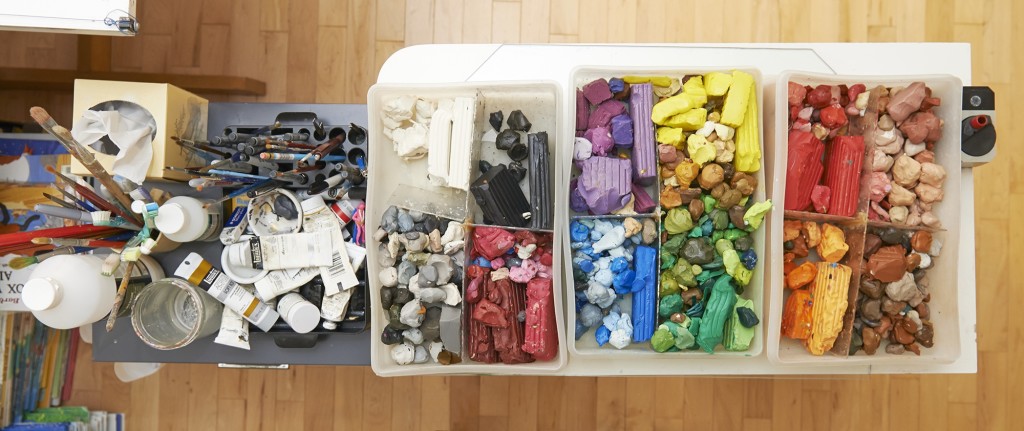 Are there any kind of rituals you do before you start creating? 
Almost every morning for 15 years I took our bossy little wire-haired Fox Terrier Ruby for a walk in the Don Valley ravine system. Walking in nature is one of the best ways to clear your head and think random thoughts. Ruby was an excellent companion: she made sure I walked whatever the weather, she was always happy to be out, and she didn't talk. My book Picture a Tree is dedicated to Ruby, as most of the writing took place on our walks. She also makes appearances in Sing a Song of Mother Goose and Perfect Snow. Now Ruby is terrorizing squirrels in the afterworld, but I still try to get out there every morning. It always makes for a better day. That and coffee.
Is there anything you like to listen to while you're working? What are you listening to now?
Classical music on CBC (Canadian national public radio) if I'm writing or drawing roughs. In the production stage of plasticine artwork I enjoy CBC talk radio and lecture podcasts.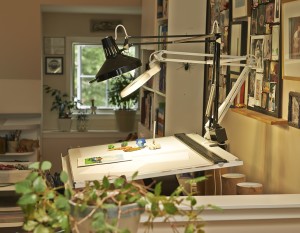 Is there any special item/trinket in your space that inspires you?
My favourite distraction is a bird bath on the deck outside the studio window. Most days the birds have a little happy hour sort of thing and they all line up and take turns. Distraction and inspiration often go hand in hand. Inside the studio are all sorts of books, souvenirs, stuff from kids, photos, and quotes pinned up that inspire me. It's kind of a shrine to the Idea Fairies.

I love the Idea Fairies–there's a new book idea waiting to be created 😉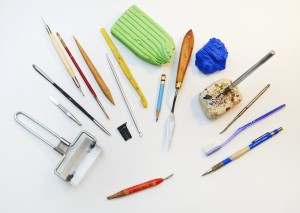 What would you say is the most useful tool in your studio? 
This will date me! I have an ancient burnishing tool for sticking down Lettraset instant lettering. I use it as a magical 11th finger for making small details in the clay. It is the one tool to rule them all. I have chewed the handle to a stub. It's irreplaceable and so it never leaves the studio.
If you had a couple hundred dollars to improve your space, what would you do?Pay someone to clean the fish tank.
What advice do you have for people who want to make a personal space where they can be creative?
Be selfish! By that, I mean respect your work by creating the space and time you need to do it in.
What are you working on now, and where can we find out more?
I'm very excited that my illustrated version of the classic Clement C. Moore The Night Before Christmas will be released in the USA for Fall 2014, published by Albert Whitman & Company. First published by Scholastic Canada, it won the 2014 Libris Children's Picture Book of the Year, from the Canadian Book Publisher's Association. In response to the line: "Not a creature was stirring, not even a mouse", I chose to make all the characters mice– even Santa. The story takes place in the hollow log home of a lively (to say the least!) mouse family. I'm working on some new ideas, but it's too soon to talk about them. You can find out more about my books, upcoming events, and how-to videos for creating plasticine artwork by visiting my website: http://barbarareid.ca.
Thank you, Barbara for sharing your beautiful studio, and also for inspiring my daughter (and me) with your amazing and memorable books! 
Stop back next week to see the literary spaces of author Deborah Underwood!