Over the last few years I've had my studio in the dark basement, but I recently decided that I needed a studio with natural light more than I needed a guest room. I began looking for inspiration to make a new creative space – one that is highly functional, but also attractive enough to be on the first level of my home. After looking at lots of different studios I realized I love seeing all the great places art gets made, and I figured other people might enjoy this too. So, every Tuesday, for as long as I have volunteers willing to share their creative spaces, I will showcase Tuesday Tours.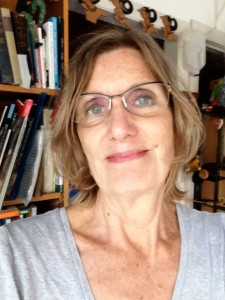 My first guest is Karen Konnerth. I met Karen through the online writing community 12 x 12 started by Julie Hedlund. This group of writers challenges themselves to write 12 picture books in 12 months. In addition to having the support and feedback from over 500 writers, 12 x 12 members also have the opportunity to submit manuscripts to a different agent or editor each month. Karen, a newbie to 12 x 12, says her immediate passions are writing and illustration. She's been in her New Orleans studio for 15 years and in addition to having a great space to create her work, she also uses the space for workshops and performances.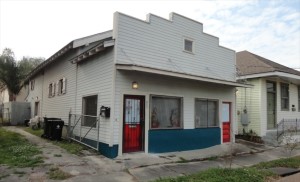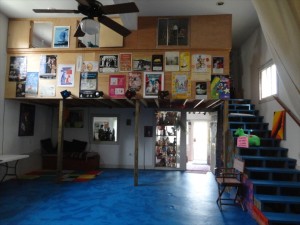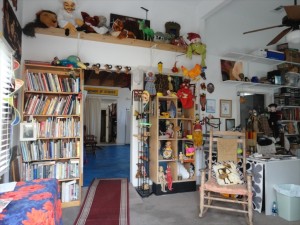 Tell us a little bit about yourself and your creative medium.
I've worked as a full time professional puppeteer for over 30 years, also doing a lot of arts in education work — working with children as well as teachers, and now I'm also writing and illustrating books for children. Through puppetry, I travel a lot internationally to puppet festivals (especially South & Central America, as I can present in Spanish), and I also work through the US Embassy offering arts integration workshops for teachers in the Middle East and other places.
How long have you had your space and how does it affect your creative process?
How long have you had your space and how does it affect your creative process?
I have had this space about 15 years, and before that, I had a garage space, and before that I began making art on the kitchen table. It makes a huge difference to have my own space. The building is in biking distance from my house in a neighborhood populated by many creative people. It also has an elementary school across the street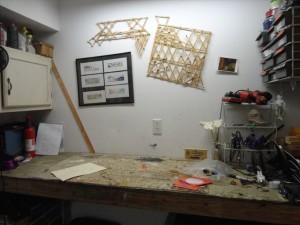 with an awesome band (the band room fronts my corner, so I know all their songs). I have a tenant in the back of the building, so that covers the cost of the space, which is great. There's an office space; a large room to build stages, rehearse shows, offer performances and workshops; and a compact workshop space with tools and materials for building puppets. I love to be able to come here knowing I can focus on my work. It's a very happy place for me.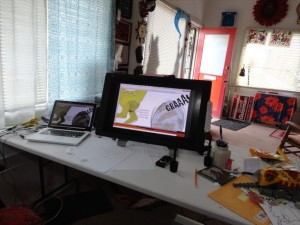 Are there any type of rituals you do before you start creating?
My office faces east, so I love arriving early and opening the door and window shades. It is a very bright and colorful space, and the neighborhood is quiet.
Is there anything you like to listen to while you're working?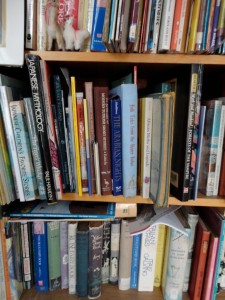 I listen to one of just a few things: Late Lunch by 3Manisha, a fabulous eclectic cd by Richard Scott, who is a local musician; some Latin and Caribbean music; a little of Bach's Brandenburg Concertos; and, if I get drowsy in the afternoon, sometimes I'll listen to The Best of Culture Club (weird, I know). Mostly I like music without words when I work.
What are you reading right now? 
Currently I'm reading Show Me A Story by Leonard S. Marcus. I've recently read The Things They Carried by Tim O'Brien, The Tiger's Wife by Tea Obreht, and A Handful of Dust by Evelyn Waugh. I'll read on any topic, as long as the writing is strong. I love good fiction!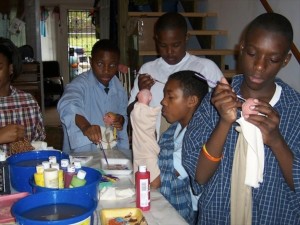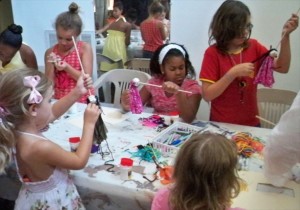 If you had $500 to improve your space, what would you do?
I think I would design and have built some sort of collapsible bench seating and low tables for kids in the big room. I have been really focused on my writing and illustration lately, but I think I'd host more community events if it were easier to set up.
What advice do you have for people who want to make a personal space where they can be creative?
One thing – make/find a space that will not be a financial burden. My building was purchased very, very cheap, because it needed a lot of work. In your own house, any corner of a room that is designated as a place where you can be left alone to work, and  also, one where you can leave your work out, is great. Space and time go hand in hand. When my children were young, I had the garage space, but I mostly worked there only after they were asleep. Time is the biggest factor – if you can carve it out, you can work almost anywhere. But the time must be yours and yours alone – that is the hardest to find at some stages in life.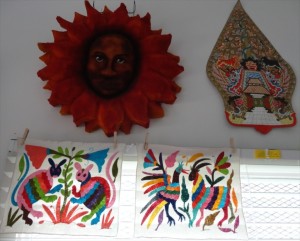 Is there any special item/trinket in your space that inspires you?

This varies over time, but lately, I'm inspired by the bright colors and fantastical images in a couple embroidered pieces I got in Oaxaca, Mexico last summer.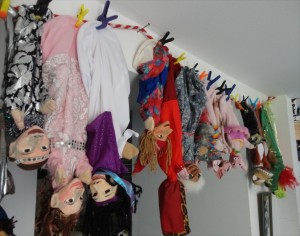 Any new projects that you're working on?
I'm in the process of writing a script for a new puppet theater show, which I will also build. I'm planning for the stage set to look like a large scale pop-up book. I'll be posting the progress on my blog. My site is karenkonnerth.com and my puppet site is Calliope Puppets.

Thanks for sharing, Karen! And good luck with your projects!