This week's Tuesday Tours features the studio space of Rina Yoon, a Milwaukee based artist and Professor of printmaking at the Milwaukee Institute of Art and Design. I've had the pleasure of showcasing Rina's work in two of the exhibits I've curated. Her beautiful figurative prints evoke a very ethereal quality. She says she uses the medium of printmaking, not only to make multiples, but to use the techniques as a way to build up layers, and through that process, create a type of meditation.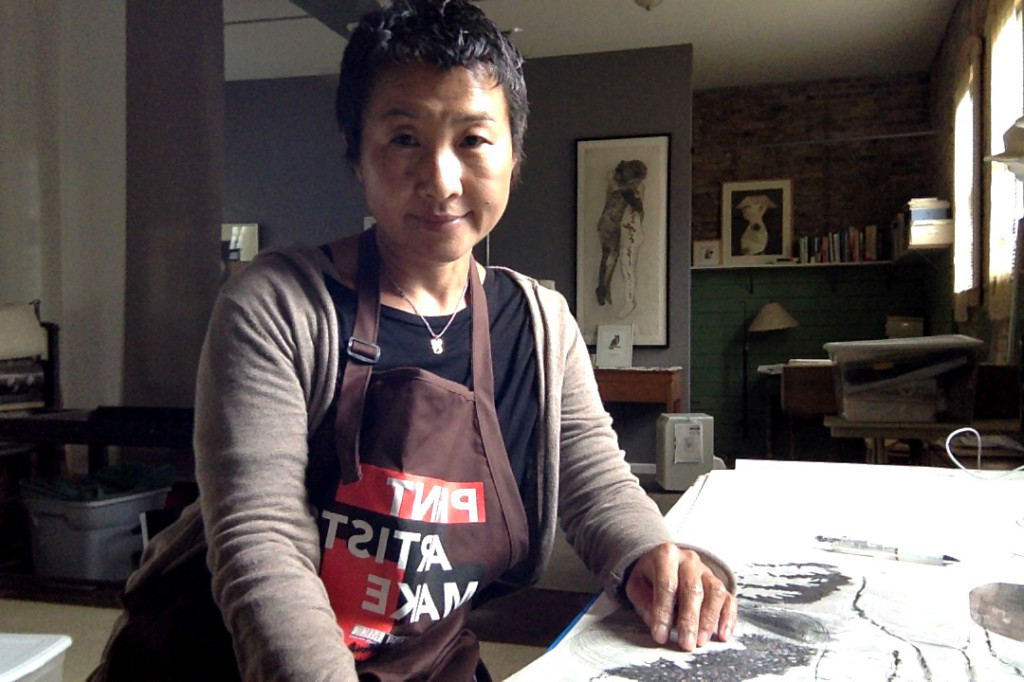 Tell us a little bit about yourself and your creative medium.
I was born and raised in Korea. I came to U.S. when I was 17 and I have been here for 32 years. My primary medium is printmaking, particularly intaglio processes. I love the incised lines embedded in paper and the tactile quality.  Recently I have been exploring installations and working three–dimensionally.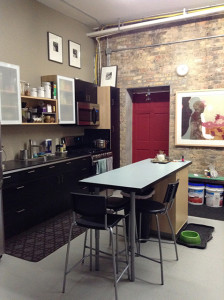 How long have you had your space and how does it affect your creative process?
I have had the studio since 2000 and recently I did a major renovation to convert to live/work space.  It was difficult to be in the studio before and now I have windows to look outside and lots of natural lights. It allows me to bring studio practice into my daily life, moving seamlessly from the press to the kitchen, and to the garden.
Are there any kind of rituals you do before you start creating?
I don't have any special rituals. After years of doing this, studio practice has become more about the discipline. I start my day with a good breakfast and sit down to work. I like to pace myself and to work steadily.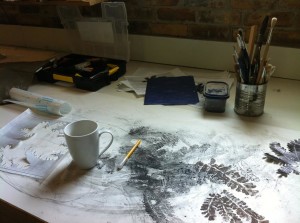 Is there anything you like to listen to while you're working?
When I start a new image, I don't listen to anything. In general, I prefer silence. But when I do more production work, like printing or making a plate, I listen to either NPR or TED Talks.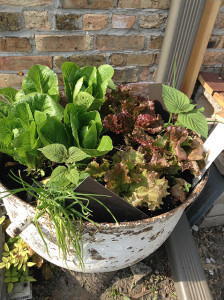 Is there any special item/trinket in your space that inspires you?
What inspires me is tending plants and vegetables outside. I used to have a large yard and I would spend hours tending the garden.  Now that I've moved to the studio, I only have a small container garden, but it is still very important for me to have that connection to nature.  Because Milwaukee has a very short growing season, it is more precious, and I try to be outside as much as possible.
Yes! Our winter was particularly long this past year. I'm savoring the summer.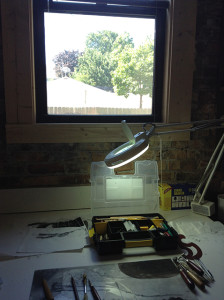 What would you say is the most useful tool in your studio?
My etching press.  Having moved the press four times was very difficult but it is nice not having to bring the plates back and forth between the studio and school.
If you had a couple hundred dollars to improve your space, what would you do?
For a couple hundred dollars, I would add more track lighting.  My eyes are beginning to show signs of aging, so more lighting would be helpful.
Do you have other creative rooms in your home?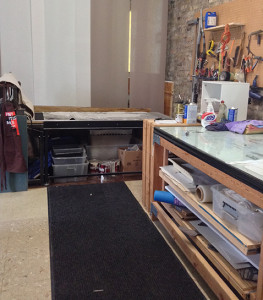 I tore down all the walls in the studio.  It is designed so that I can look at my art from anywhere. My work table and the press are in the middle of the space and I walk pass them all the time. It is a constant reminder to keep me focused in producing work. Everything is in the open so I can integrate living and working.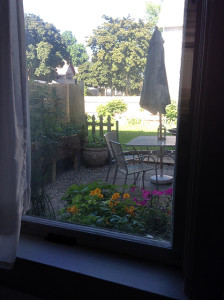 What advice do you have for people who want to make a personal space where they can be creative?
For me, I need to be able to look outside. Before the renovation, the studio had no windows. When I was doing a residency in Paris several years ago, I had a huge window in the studio. What a difference it made!  Sitting at the work table was pleasant and inviting. So my advice is this: Don't save the best space for your guests, make it yours. Take the best space you have in your home for yourself.
Great advice! I know I always save the biggest and nicest room for guests. As our kids get bigger, the house feels smaller, and I'm rethinking saving these great space for the sporadic guest or party.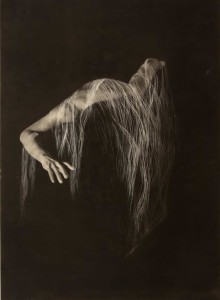 Where can we see your work?
I am going to have a solo show at the Elaine Erickson Gallery next March, 2015 and at the James Watrous Gallery in Madison in November, 2015.  Currently I am exploring combining prints, video and three-dimensional surfaces.  My website is: http://rinayoon.com/home.html.
Thanks for sharing your space, Rina! Your new work is stunning!