Today on 
Tuesday Tours
 Milwaukee-based artist Todd Mrozinski offers us a look inside his studio The Nut Factory, which he shares with his wife, artist Renee Bebeau. It is in this expansive studio space that most of Todd's series live together, allowing him to see their relationship with each other. The studio is also a location that Todd and Renee offer art classes and workshops. Todd's art is sprinkled throughout Milwaukee in various shops and restaurants, including my neighborhood favorite, Juniper61. He's currently represented by the Woodman/Shimko Gallery.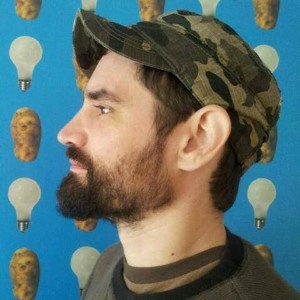 Tell us a little bit about yourself and your creative medium
.
I am a full time artist and teacher. I mainly work in oil paint because of the luminous and textural qualities it has. Above all else I follow inspiration. There are two subjects that currently hold my fascination, shadows and articles of clothing. For the past 2 years I have traced my subject's shadow directly onto the canvas and used this drawing as the framework for the painting. For the last 15 years I have painted symbolic portraits of people by painting their clothing.
How long have you had your space and how does it affect your creative process?
I have shared a 1,200 sq. ft. studio space with my wife, Renee Bebeau for about 2 years. Before the large studio I had a small, 80 sq. ft. living room studio, where I still do much of my work. I like to be close to the work and live with it. So much of it has been about my family, friends, yard, home and light. The quote about a Velazques painting being "not art but life perpetuated" has resonance with me. The bigger studio is great for larger work and is essential to seeing each series together. The home studio is the incubator and I can get into "the zone" there quite easily, especially during morning light.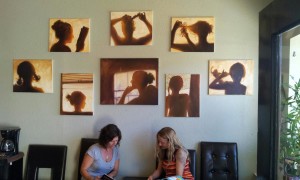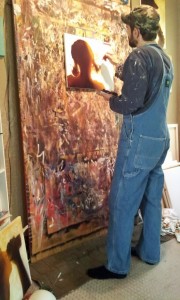 Describe a typical work day in your studio.
On a usual studio day I get up early and paint at the home studio. Eat lunch, nap, paint more or do computer work, go to the larger studio in late afternoon, paint or hang work, have dinner, correspondence, paint at either studio until bedtime. Recently, studio visits have been a wonderful way to connect and get to know other artists.
Are there any kind of rituals you do before you start creating?
I light incence or a candle, lay my brushes out and prepare my palette. I calm my mind to focus entirely on the painting in front of me.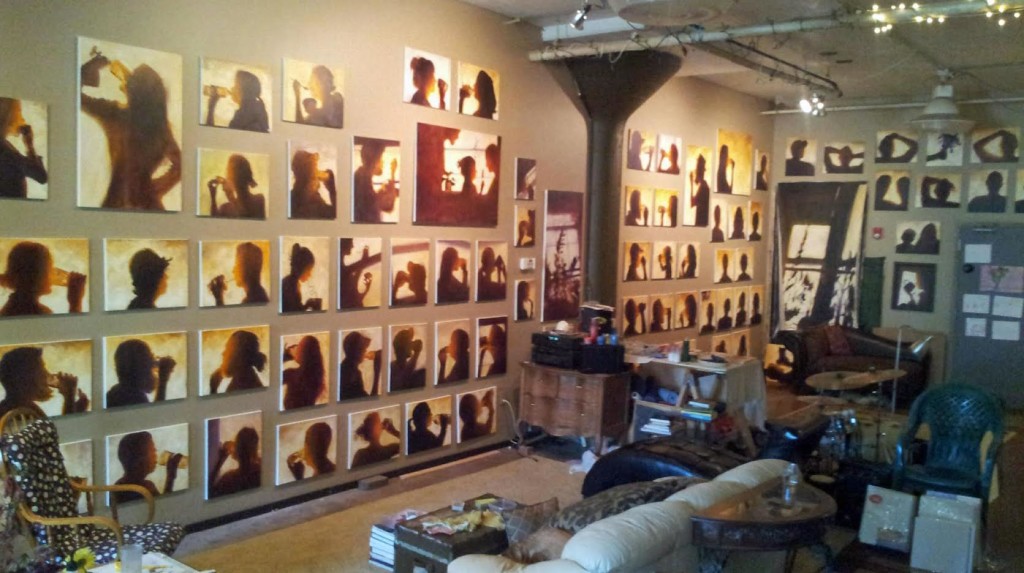 Is there any special item/trinket in your space that inspires you? 
The items that inspire me most are the house plants because of their stillness and lush beauty. I'm also inspired by the recent paintings that hang around the studio which inform and encourage the next work.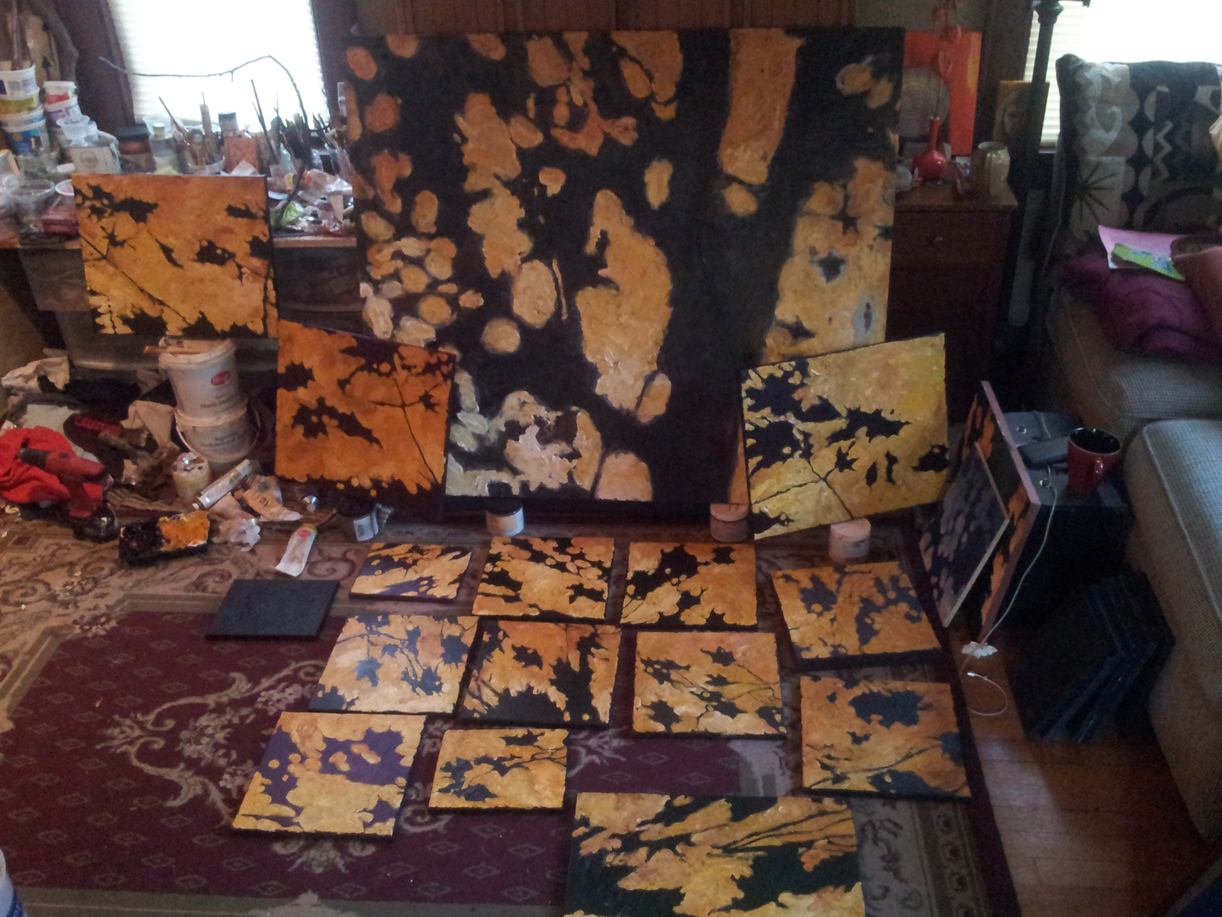 What would you say is the most useful tool in your studio?
The most useful tool in my studio is the brush I am holding. As a series progresses, the brushes and tools that I use become my daily companions.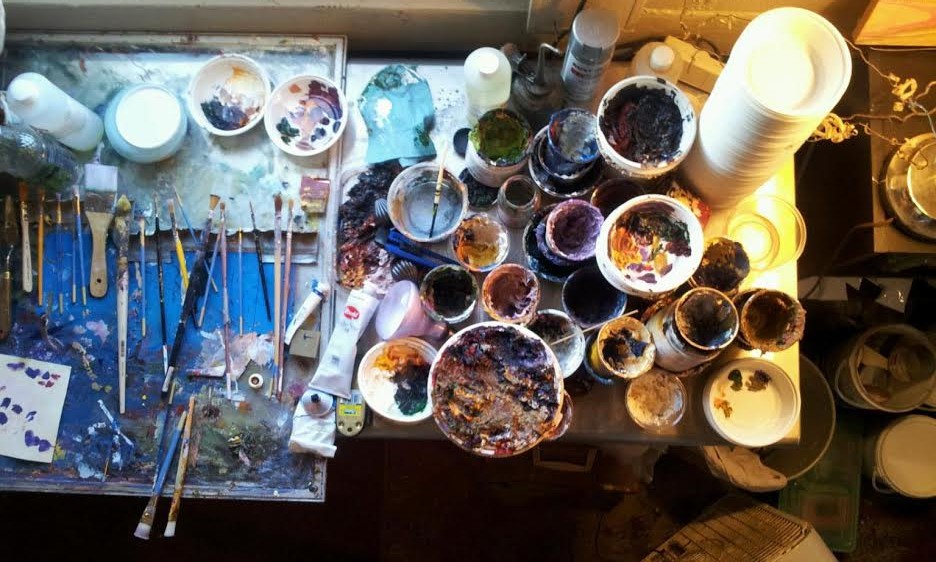 What advice do you have for people who want to make a personal space where they can be creative?
Make whatever space you have into a space to do your work. It is the most valuable thing you can do for yourself, and the others around you, because in the space of timeless play, life is enhanced and the spirit is uplifted. Make sure the space is well lit, comfortable and a place you want to spend time in.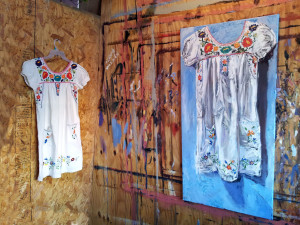 What colors inspire your creativity.  Are those colors incorporated in your space?
I'm intrigued by the secondary colors, most of my current work consists of orange, purple and green, with occasional alizerin and white. The mixing of these colors and the way they interact continuously mystifies me. We have warm brown walls in both our home and larger studio space. I like to view work on warm, neutral, walls because it is soothing to my eyes and sensibilities.
If you could share you studio with a famous artist, who would you chose?
David Hockney, he seems like a kind and enthusiastic man with a great sense of humor, from the interviews I have seen. I admire his intensity and passion for art.

What's coming up for you and where can we find out more?
I was chosen to be part of the
Midwest Artist Studio Program
. I will be showing at
The Hide House
during Bay View Gallery Night on 
Fri. Sept. 26
. The
Libations!
and
Shadow Portrait Series
will be shown at LuLu Cafe in Bay View from 
Oct. 17
 thru the New Year. Paintings from
The Clothing Series
will be in a group show, 
The Glass Menagerie: A Visual Dialogue
, at 10th St. Gallery in Milwaukee from 
Sept. 22 – Nov. 7
.
Shadow Portraits
will be at Bella Salon in Shorewood thru the New Year, and
The Bouquet Shadow Series
is showing at Juniper61 in Wauwatosa thru the New Year. You can visit me at 
http://toddmrozinski.com
.
Thanks for sharing your studio with us, Todd! Seeing all of the shadow work together is really stunning. Best of luck with your upcoming shows!
Join us next week when we'll get the chance to step inside Texan illustrator Mary Sullivan's studio where she created her award-winning picture book Ball!