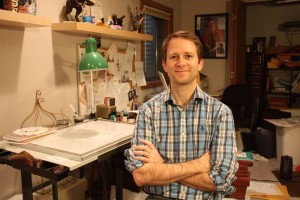 Today on Tuesday Tours we have the talented author and illustrator Matthew Cordell sharing his studio from just outside of Chicago. I love Matthew's illustrations and I'm not the only one, as he's the illustrator of over 25 books and counting. One of which is the New York Times Notable picture book, HELLO! HELLO! He's currently busy at work finishing up the artwork for two picture books, as well as developing sketch dummies for two others, one of which he's also writing. This busy workload might create a bombed out studio—his words, not mine 🙂 . But it also lends itself to an amazing energy that flows throughout Matthew's work.

Tell us a little bit about yourself and your creative medium.
I was born and raised in a small town in South Carolina and moved to Chicago when I was 24 years old. I'm now married to my lovely author wife, Julie Halpern, and we have two kids (6 and 2) in suburban Chicago. My schooling was in graphic design and fine art, but after a detour or two, I made my way into the world of art and storytelling with books for children. And thankfully so. It reignited my nearly flamed out artistic passions and I really, really love it here. I like messy, expressive, unconventional (dare I say ugly) art. I also like humor in art. Not so much the knock-you-over-the-head-with-it kind, I guess I'm more drawn to the subtle stuff. Generally speaking I like people and things that don't always take themselves so terribly seriously. A sense of humor and humility in work and in life. These are musts. My art is primarily created by drawing in pen and ink and coloring in watercolor. I've strayed from this particular combo here and there, but pen and ink is what I love (sometimes hate) and end up doing the most.
How long have you had your space and how does it affect your creative process?
When I went full time book maker back in 2007, I was working in one of the 3 bedrooms of our house, on the upper level. A little small, but lots of natural light with a nice view of the backyard. But when our second child was born in 2013, I had to vacate that room and move my operation down to the basement. Since it's mostly subterraneous down here, there's very little natural light (2 window wells) and it's basically cold year round, I don't love it, but I can certainly get by. I thrive off of natural light, so truthfully it can be a bit of a bummer working in a basement. Lately when I'm painting, so I can bet a better handle on color, I'll temporarily set up a table in our master bedroom by a window and get the natural light fix. My wife suggested this a couple of books ago for me. Great idea, really, to mix it up. Truth is, I'm not terribly picky about stuff. I don't need a beautiful or organized (or clean for that matter!) space to be happily at work. I do like daylight and I miss that in my current workspace. Eventually I'll have to figure something else out. Eventually. With young kids and a heavy workload, stuff like having the studio you want takes a backseat in life.
Describe a typical work day. Do you have any rituals you do before you start creating?
Half of my day—the morning—is spent working as a Dad for my 6-year-old (driving her to school) and my 2-year-old (doing stuff 2-year-olds like to do). My wife (author Julie Halpern) works in the morning and takes over with the kids usually around lunch time. I spend the rest of the day (and sometimes nights after everyone's in bed) down in the basement. No rituals to speak of really. Usually I start the work day by answering emails and social media upkeep. Then it's draw, write, repeat.
When was a time you had the most fun working in your studio?
It's hard to pinpoint any one moment that has been fun or rewarding. I think my favorite part of the process of creating a book comes just after all sketches are approved and it's time to make the final art. But the favorite part is just after THAT. When it's finally time to make the final art, I really set in dreading making that very first mark on paper. I'm afraid of what it will or won't look like. Then, when I finally work up the nerve to start, and it's looking good, there's a huge rush of relief. The ice is broken. And then I'm up and running and it feels great. Give or take the snags and self-doubt speedbumps along the way. Oh! And FINISHING a book and being DONE and mentally fat and happy with all that has just been accomplished. That final, final moment after all the days, weeks, months, years (?) that went into making a book from very beginning to very end. That is absolute bliss, man.
Is there any special item/trinket in your space that inspires you?
I have a poster of Mister Rogers hanging above my computer desk. Folks who don't know much about Fred Rogers, I highly suggest you poke around and see what you find. As far as I can tell, he was, like, THE perfect human being. Selfless, kind, wise, accepting, curious, sincere, humble, funny… I find him—his life and his life's work—tremendously, incredibly inspiring.
What's the biggest distraction for you when you're creating? How do you deal with it?
Social media. Facebook, specifically. I'm on Twitter too but I never really grabbed onto that one. I don't do instagram, tumblr, or anything else. I just don't have the mental capacity to keep it going on more than one platform. I mostly use Facebook in a creative/professional capacity. I love sharing work and discovering and seeing new work and works-in-progress from my contemporaries. I accept that it's become a part of the job, in a sense, but it does get super distracting. I usually just try to take little breaks (equivalent, I guess, of, like, smoke breaks) and check in on the Facebook between chunks of drawing/painting. That kinda keeps it at bay.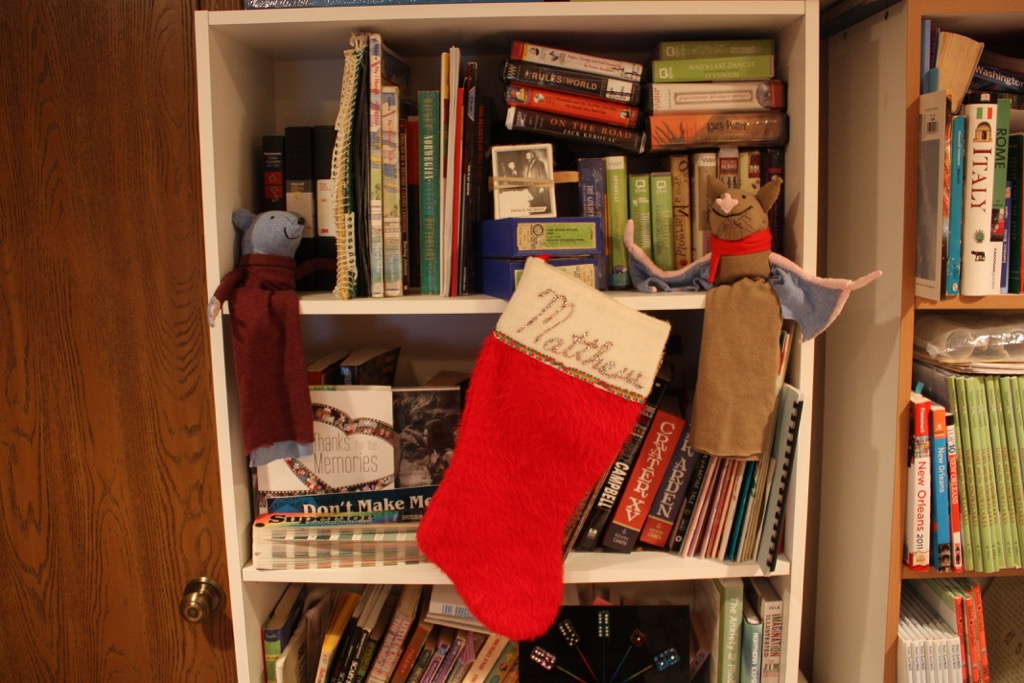 If you could live inside the world of one of the picture books you've illustrated, which one would it be and why?
Definitely SPECIAL DELIVERY (written by Philip Stead). It's totally weird and wild and fun and exotic. High adventure! Lots of animals! Beyond that, it's basically only kids and old folks in that book. My favorites.
What other artists, writers or creative people are you most inspired by at the moment?
I love John Burningham. I think he might be my #1 book making inspiration. He's so… out there. I also really love Quentin Blake, William Steig, Jules Feiffer, Bernard Waber—folks who have been or were so very loose-limbed with the pen. I've really been getting into the picture books Quentin Blake and Russell Hoban did together. Sendak, of course. Saul Steinberg is always in the back of my mind somewhere. Arnold Lobel is amazing. Virginia Lee Burton is great—often for nostalgic purposes too. Lately, I've been digging into Leo Lionni's books. In terms of more contemporary inspirations… I'm always super diplomatic answering this sort of question! Truth is, there are a great many authors and illustrators today that I find inspiring. But I hesitate to name just a few, because I don't want to hurt anyone's feelings by leaving folks out! (Total cop out.)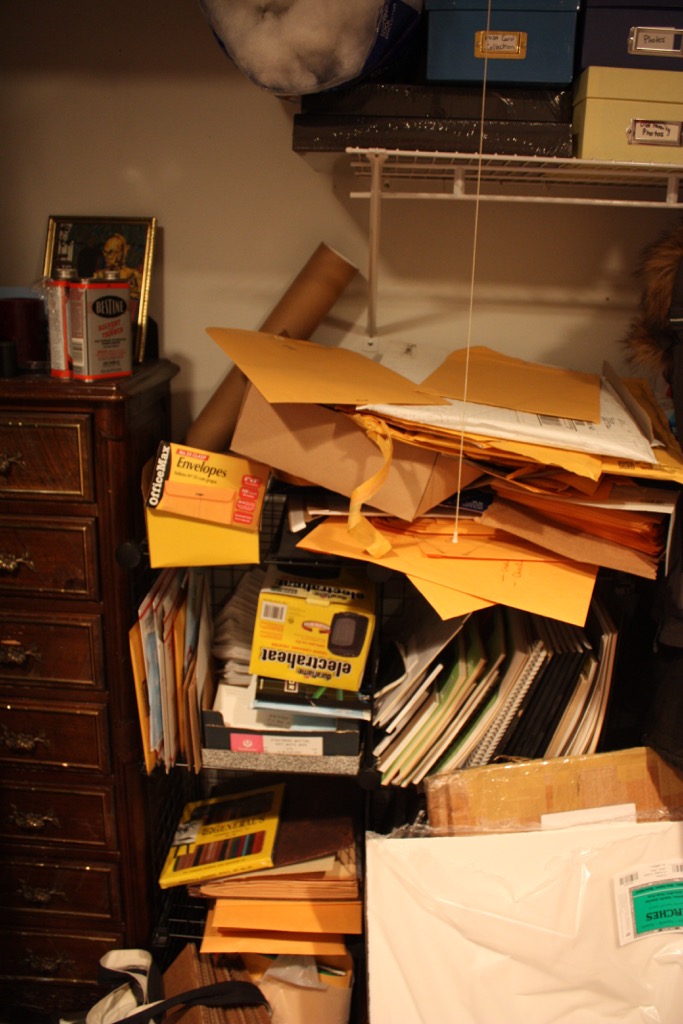 If you could relocate your studio for part of the year to another geographical location, where would it be?
Hmm. That is a great question! Since my daughter's in first grade and fully entrenched in school now, we don't have this option. But I love the idea of it. Since it's fantasy at this point, how about one of two places that don't really exist? Um… Northern Exposure's Cicely, Alaska. Or Gilmore Girls' Stars Hollow.
What advice do you have for people who want to make a personal space where they can be creative?
My advice would be… don't get too hung up on making THE perfect space. Often times, that is ultimately procrastination anyways. Just find the room or area you need, set yourself up more or less, and get to work! Everything else will fall into place. Let the making of the work define the space, not the other way around.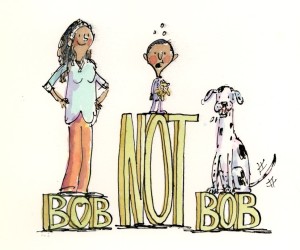 What's coming up for you and where can we find out more?
I just finished a picture book called BOB NOT BOB which I loved illustrating through and through. The story is clever and unique and funny and a just the right amount of weird and was written by authors Audrey Vernick and Liz Garton Scanlon. Currently, I have several plates in the air: about to start final art for my next author/illustrator picture book, WOLF THE SNOW (Feiwel and Friends, 2017); writing and sketching up another picture book that will be a follow up to my 2015 book, WISH (Disney-Hyperion); and I'm about to start a sketch dummy for THE ONLY FISH IN THE SEA, a follow-up to this year's SPECIAL DELIVERY (Roaring Brook).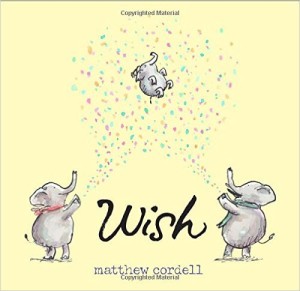 My next book out will be another picture book I had the great fortune to illustrate called LOST. FOUND. by author Marsha Diane Arnold. Super clever and fun and sweet despite there only being two words in the whole book! (Guess what they are?) That's out November 3. I had three other books out in 2015, WISH, SPECIAL DELIVERY, and FIRST GRADE DROPOUT by Audrey Vernick. It's been a blockbuster year! My website is matthewcordell.com but it's shamefully out of date. Better yet, maybe, connect with me on Facebook!
Thank you so much, Matthew! Looking forward to seeing you this weekend at the Prairie Writers Day. And I'm anxious to see what BOB NOT BOB is all about—I just love the cover. Best of luck on all the books you have coming up!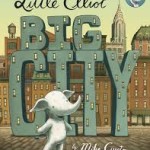 Tuesday Tours will be back on December 8th when Mike Curato, creator of the adorable Little Elliot books,  shows us his Brooklyn studio.
If you'd like to get monthly updates on Tuesday Tour guests, please subscribe to my mailing list.