Today on 
Tuesday Tours
 we get to take a peak into illustrator and author Russ Cox's cozy Maine studio. In addition to his work in children's picture books, Russ has his own studio called Smiling Otis Studio, where he's worked with a number of clients including, Warner Brothers, Hershey, American Greetings, and A&E. Russ will debut his first picture book as an author and illustrator next Spring with his book Faraway Friends (

Sky Pony Press)—
an action packed story that follows 
Sheldon and his dog, Jet as they try to build a spaceship to carry them to Jupiter, the place Sheldon believes his best friend has moved.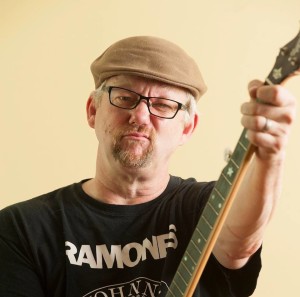 Tell us a little bit about yourself and your creative medium.
Hello, my name is Russ Cox and I play banjo as well as juggle moose in the quaint town of Pittsfield, Maine. I also illustrate, and now write, children's books. My wife and I, plus our 4 cats, moved up to Maine 6 years ago after living in an old city row home (early 1800s) in Lancaster, Pennsylvania. We always loved Maine, so when our last kid adventured into the world, we bought a little house in Pittsfield.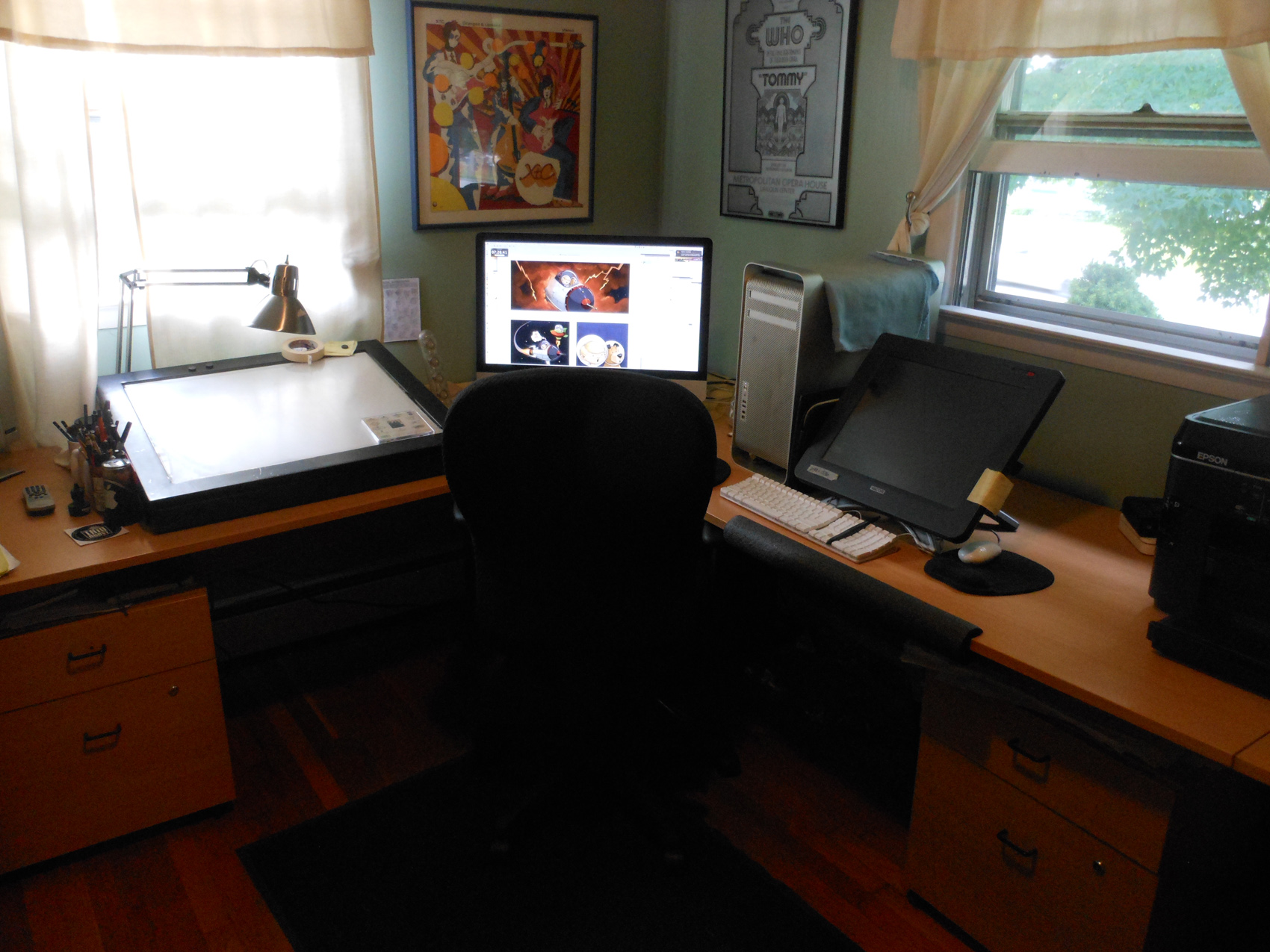 My creative mediums are my sketchbooks, which I try to draw in daily, good old pencil and paper, along with my Macs and various software including Painter, Photoshop, and recently discovered Manga Studio. I still like the feel of pencil to paper. There is an emotional connection for me to using those two tools. Although I have started doing thumbnails and preliminary sketches on the computer to save time. I like Painter for sketching. It has more of a natural feel. As far as my banjo playing and moose juggling, they are works in progress.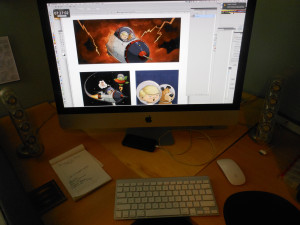 How long have you had your space and how does it affect your creative process?
My studio space is very small and cozy, more so than my old studio in Pennsylvania which was three times the size. I like that I can almost reach everything in my studio by just wheeling around in my chair.
Wait, did that sound lazy? Having my tools and books within arms reach does save time and helps me stay in a creative groove. Whew, I think I redeemed myself after feeling lazy.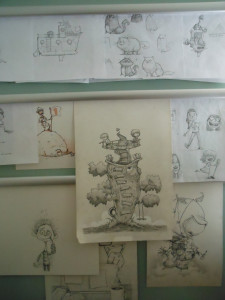 I have a wall dedicated to hanging pieces of art, story ideas, storyboards, etc. that are in various stages. This allows me to step back and view the work as a whole. I use Trapease Display Rails to hold the paper in place. My closet door has postcards from friends and artist I admire. It is called "My Wall of Inspiration". You can learn so much by looking at the work of others, but you don't want to get bogged down in doing that so much that you lose sight of your vision and goals.
Great advice! Inspiration is wonderful, but self-comparison can definitely cause the creative process to stall.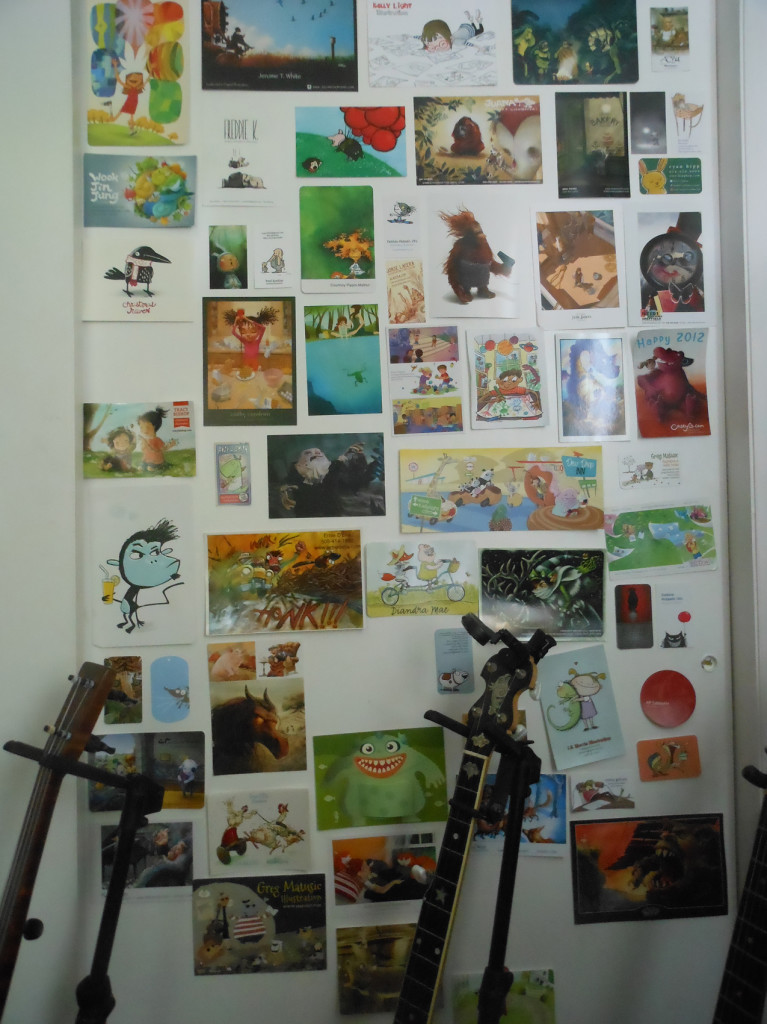 Describe a typical work day. Are there any rituals you have before you start creating? 
Recently, I started doing a new ritual where after I work out in the morning, I spend at least an hour on my own projects and stories. This helps me keep moving those projects along in case my agent needs samples, a new picture book dummy, and/or manuscript.
On Fridays, I go to our local library to write. It gets me out of the studio for a few hours, plus the the librarians are
wonderful for feedback on story ideas or completed manuscripts and dummies.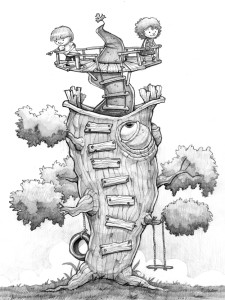 I really love that you have a library day each week! What a great place to work and also stay informed about what's out there.
Is there anything you like to listen to while you're working? What are you reading/listening to now?
I often listen to iTunes, Spotify, Coffitivity, and sometimes my small studio TV when I working at night. It is nice to hear people talking when you work by yourself so much. The Nerdist is one of my favorite Podcast. Music-wise, I listen to anything from The Ramones (great for sketching) to Old Time music to The Who to to alternative to comedy. 
The books on my nightstand are Jim Henson's biography and I have started reading the Harry Potter series. Yeah, I know, I am a little behind the times.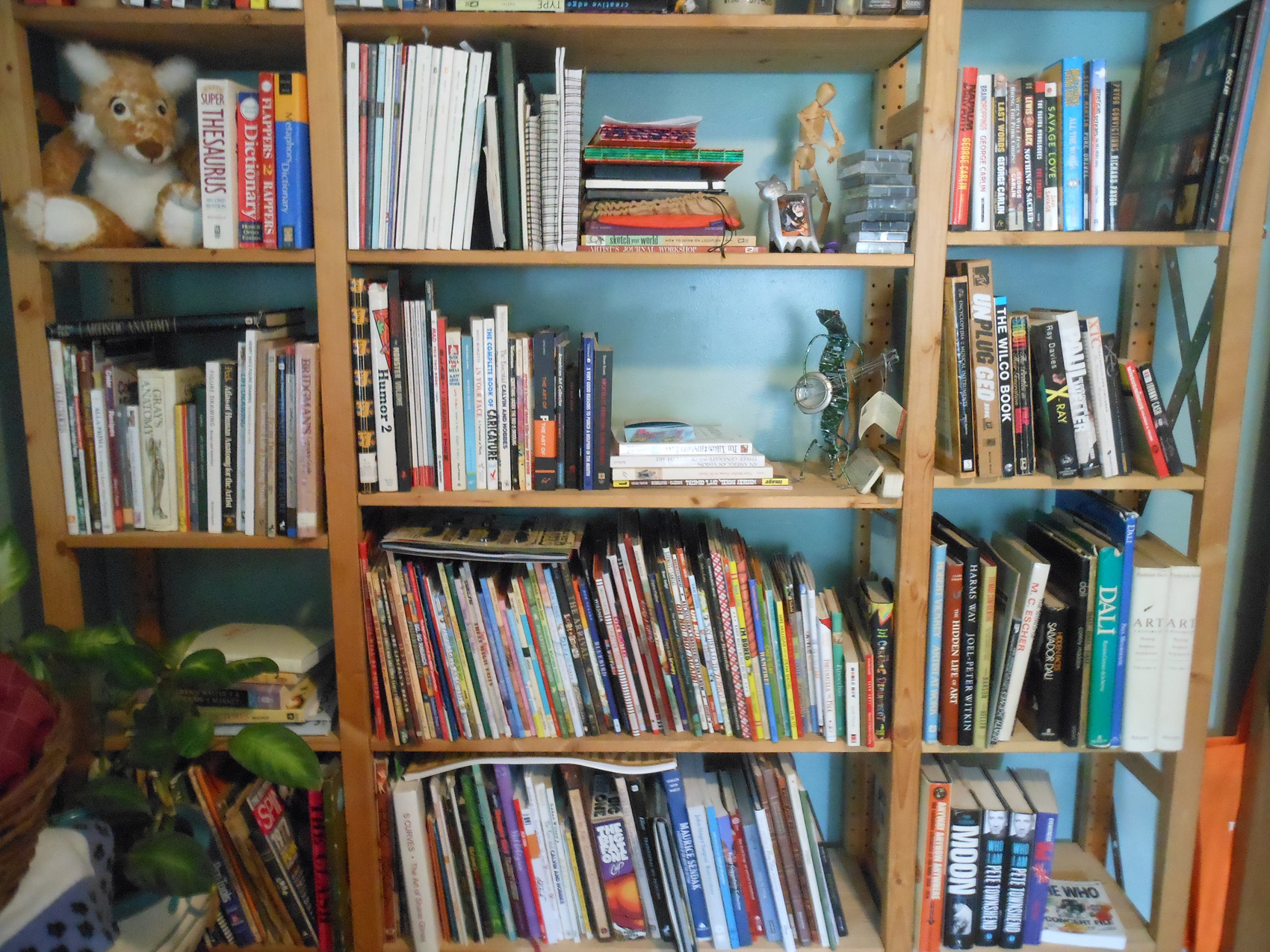 Is there any special item/trinket in your space that inspires you? 
My instruments. When I get stuck or need a quick break, I grab a
banjo, guitar, or the bass and play. It helps clear my head so I can solve the problem, or if I am stuck.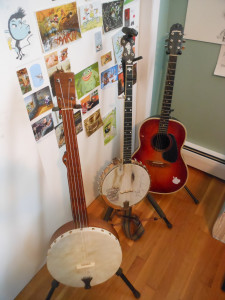 What would you say is the most useful tool in your studio?
My light box. I use it more than my computers. I b
ought it at a print shop that went out of business.
It is big enough for me to do larger pieces of artwork. Plus, one of our cats likes to sleep on it.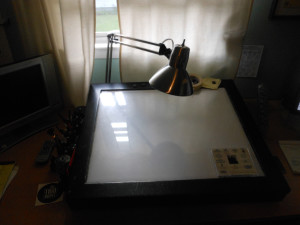 What advice do you have for people who want to make a personal space where they can be creative?
Make the space your own. Let it be inspiring. You will spend most of your time in the space so it has to be comfortable and inviting. I feel that a work space is always evolving, just like a creative person. In the next few months, my space will change as I add a few more pieces of furniture like a flat file and more postcards.
Very true. I think it's a great motivator to have a creative space that evolves with projects and personal growth.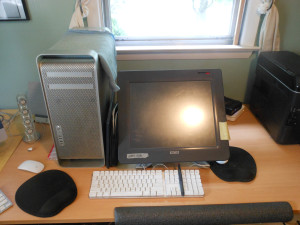 What age did you become interested in art and who encouraged you to pursue your dream?
As far back as I can remember, I was always drawing. Living out in the country in Tennessee there was not a lot of activities close by, so I would spend hours drawing and
painting, and also marveling at the skills of other artist. Such as, the artwork in Mad magazine, Famous Monsters of Filmland, Little Golden Books, Warner Brothers Cartoons, and the artwork of Mary Blair. Every member of my family encouraged my art, and they still do.
It's wonderful you had so much support, and to see it made such a big impact on what you do in the world.
What colors inspire your creativity? Are those colors incorporated in your space?
I was into bright, bold colors, but now I am gearing my
pallet into a more vintage scheme. Less saturation except for some key colors or accent color. I think Dan Santat, Lane Smith, John Rocco, and Shaun Tan have beautiful color schemes. Yes, you can see those vintage type colors through my studio.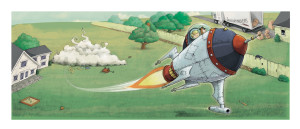 What's coming up for you and where can we find out more?
Well, I just finished all of the artwork for my first book that I wrote and illustrated called Faraway Friends that comes out April 2015 via Sky Pony Press. I am very excited about it!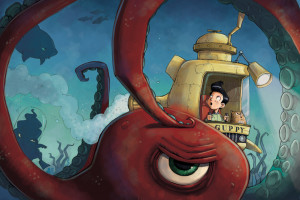 The next book in the
Freddy the Frogcaster
 series (Regnery Kids) comes out in September and I have begun work on the third book. I illustrated Lynn Plourde's new book,
A Merry Moosey Christmas
, which comes out in October (Islandport Press). Plus there is a new project that I am very excited about doing, but I can't talk about just yet. You can see more of my work at 
http://www.smilingotis.com
.
Thank you, Russ, for the wonderful interview and tour! Best of luck on all of your new books. 
Join us next week, when we hear from Wisconsin illustrator Deborah Gross who was recently selected as a semi-finalist for the SCBWI Tomie dePaulo illustration contest.