Today on Tuesday Tours we get to take a peak into Wisconsin illustrator Deborah Gross's studio where she produces illustrations for a number of publications such as National Geographic School Publishing, Compass Publishing, and Humpty Dumpty's Magazine. Deborah is  the SCBWI Illustrator Coordinator for the Wisconsin chapter. She's been illustrating for ten years and was recently chosen as a finalist for the Tomie dePaola illustrating contest through SCBWI! She'll have a chance to enter a final round of illustrations, competing against fifteen other artists for a chance to win a free trip to New York City for the annual SCBWI NYC conference. We're wishing her loads of luck and would love to see her fly out to the Big Apple come February!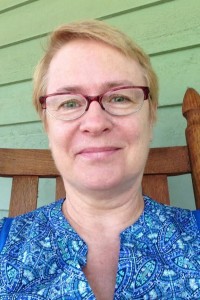 Tell us a little bit about yourself and your creative medium.
I've been working as a children's illustrator for about 10 years. Most of what I do is for the classroom, such as early readers, foreign language dictionaries, and testing materials. I work both traditionally, with watercolor, colored pencil, ink, and digitally.
How long have you had your space and how does it affect your creative process
I've had my studio space for around 15 years, but it is definitely not the only place I create art. While raising my five kids I learned to work in all areas of the house, during lots of noise and activity, and with endless interruptions. Though I do all of my painting and digital work in my studio, I still prefer to sketch and work on initial ideas in my favorite recliner or on the front porch.
I bet your children and grandchildren provide lots of inspiration!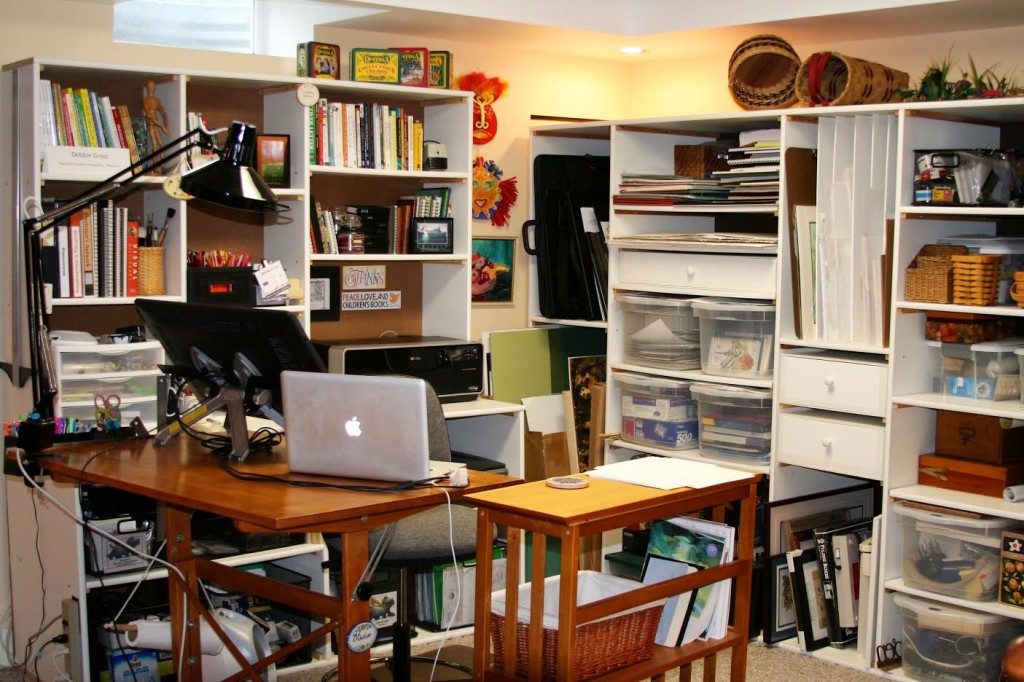 Describe a typical work day. Do you have any rituals you do before you start creating?
Definitely, my day always starts with a mug or two of coffee! If I have the time, I like to check the news and weather, maybe even get dressed before I get to work. If my deadlines are tight, I just grab my coffee and go to work in my jammies.
Being able to go to work in your PJs is definitely a perk 🙂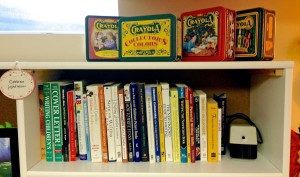 Is there anything you like to listen to while you're working? What are you reading/listening to now?
I can spend a lot of hours drawing and painting, so I need to vary what I'm listening to in order to keep my sanity. I listen to a lot of Pandora, with some of my recent favorites being my Ed Sheeran, Amos Lee, and Celtic Radio channels. If my project does not require a lot of concentration I'll watch television, mostly random talk shows or HGTV.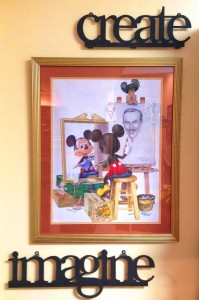 I can see HGTV being an inspiring station to watch while working.
Is there any special item/trinket in your space that inspires you?
I have the first painting I ever did as a child, a print of Mickey Mouse painting himself as Walt Disney and a few things my kids made when they were young. My space doesn't leave much room for collecting things, which is both a tragedy and a blessing.
What would you say is the most useful tool in your studio?
That's a hard question, since there are so many parts of the illustration process that I use tools for. I would say my newest acquisition, a Cintiq tablet, is probably the tool I use the most. Even if the illustration is created traditionally, it will be delivered digitally, and the Cintiq makes that process easier and faster. You can hardly beat that!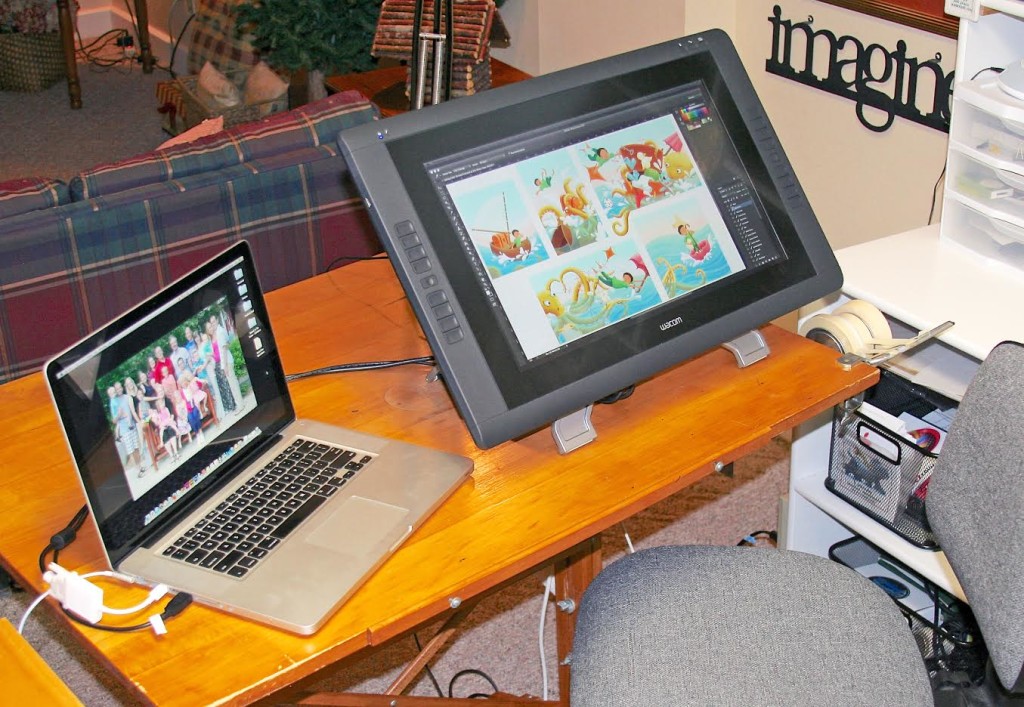 What advice do you have for people who want to make a personal space where they can be creative?
Find a space where you feel at home. It can be simple or fancy, whatever suites your taste and your budget. As long as your art materials are at hand, the lighting is good, and you feel relaxed and creative, it will be perfect.
Yes! Let the creative spirit move you, no matter where you are!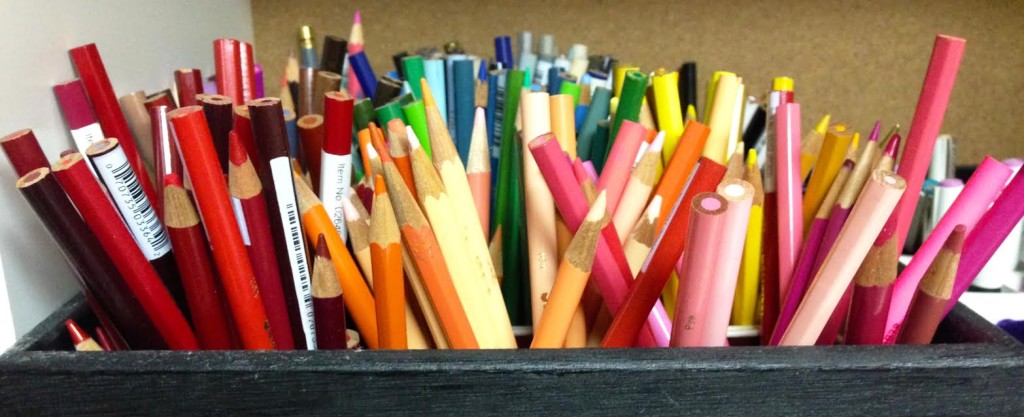 What is your greatest source of inspiration to you as an artist?
I am constantly inspired by the work of other amazing illustrators. I have a very large library of children's books by some of my favorites and I spend countless hours looking at images online, mostly through the black hole known as Pinterest. I'm also very fortunate to have 10 grandkids to play with, read to, and draw with.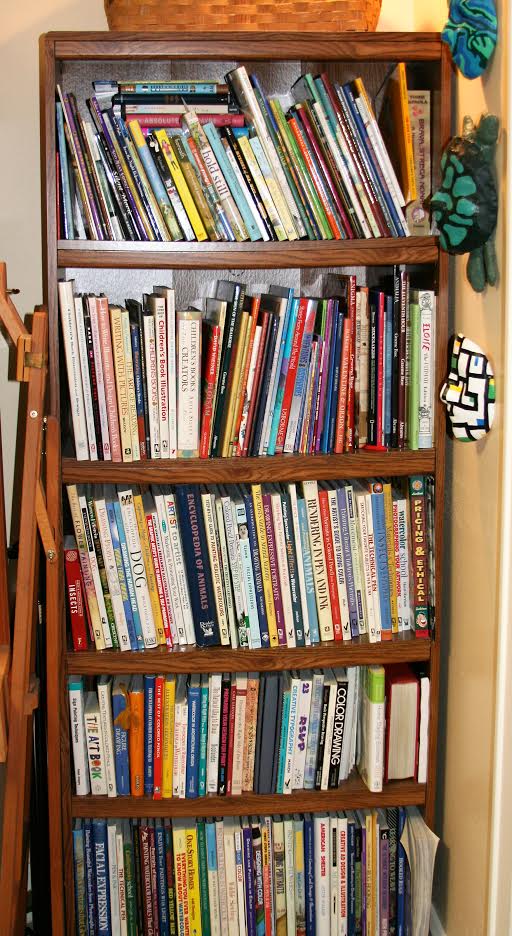 What colors inspire your creativity?  Are those colors incorporated in your space?
I don't really have specific colors that inspire me, I guess I would say that I'm more inspired by color groupings. I like to study the use of color in illustrations by some of my favorite artists. I also go to http://paletton.com/ to play around with color palettes.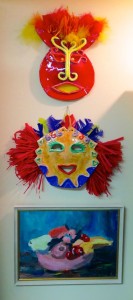 If you could transport your studio to another geographical location, where would it be and why?
My wish list here is very simple, I would love to transport my studio upstairs. The current location in my basement tends to be cold and lacks a view of the outside. For the time being I do all my initial work upstairs and head down to the studio to paint.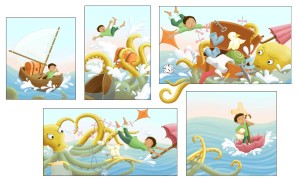 What are you working on now and where can we find out more?
I continue to work on illustrating educational materials for the classroom, which will be seen by countless students, but is really impossible to plug. The most exciting thing I'm working on is the Tomie dePaola illustration contest. I was chosen as one of 15 semi-finalists, and am currently waiting for art specs to the final part of the competition. It's a great example of what the SCBWI has to offer! You can see more of my work on my website http://debgrossink.com/.
Thank you so much, Deborah! And congratulations on being a finalist for the Tomie dePaola illustration contest. Good luck–we're rooting for you!
Join us next week when artist and teacher Todd Mrozinski gives a look inside his studio in The Nut Factory, which he shares with his wife Renee Bebeau.