Today on Tuesday Tours, we're fortunate to get a tour of award-winning illustrator Mary Sullivan lovely Texas home and studio. Mary's book BALL was a 2014 ALA Theodor Seuss Geisel Honor Book and has also landed on the Notable Children's Books list. BALL is such a fun book, it's impossible not to smile while thumbing through the pages. And after seeing the fun things that surround Mary as she works in her studio, it's no wonder the book is so light and energetic—it's reflective of the beautiful space where Mary creates her work. In addition to Mary's children's book illustrations, she has worked with Highlights for Children, Scholastic, Innovative Kids, School Zone, Oxford Press UK, Pearson, and many more.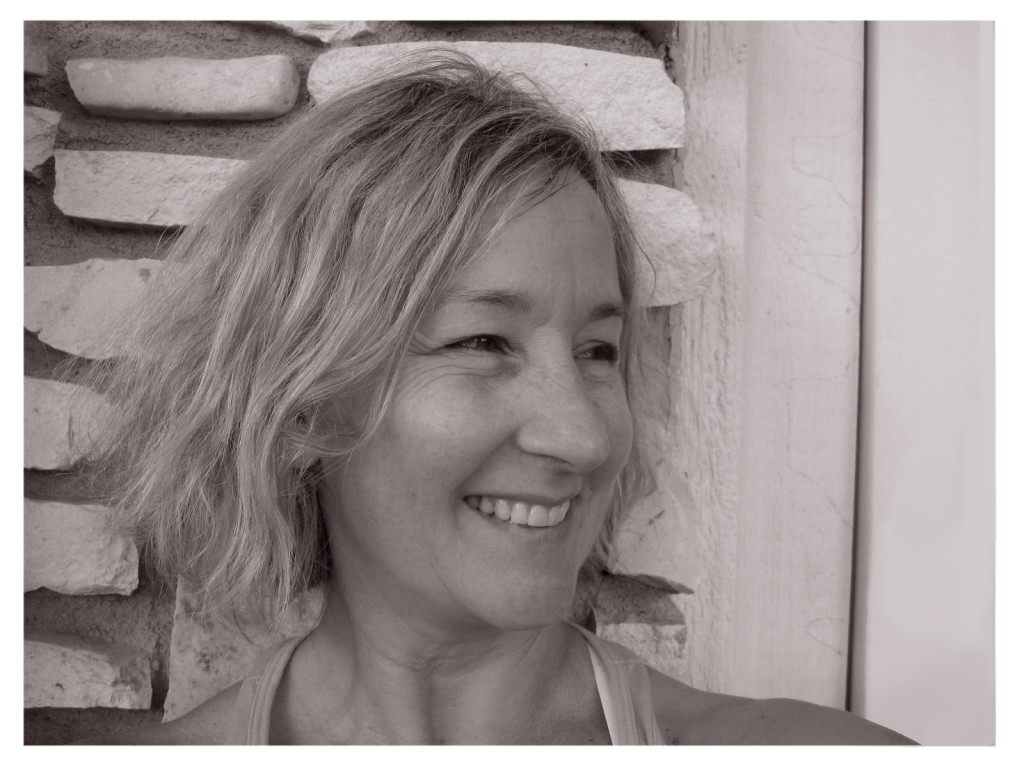 Tell us a little bit about yourself and your creative medium.
I've been drawing for as long as I can remember. While I raised my two kids I made a little money here and there doing random illustration jobs for logos, T-shirts, brochures and stuff like that. When the kids were grown and my life was less chaotic, I decided to hone in on children's illustration and in about 2002 I got my first job was with Highlights Magazine.
Since then, I've done tons of educationaI illustration, several PB's and finally published my own book BALL in 2012.  It won the 2014 Geisel Honor. I begin most jobs in pencil on Strathmore drawing paper.  I color digitally in Photoshop.
How long have you had your space and how does it affect your creative process?
I have been in this space since 2000. I knew right away that it was going to be special.  I went on a creative binge immediately after moving in. I am sensitive to light and sound. Lights must be low and sound must be almost nonexistent. My home/studio has that and more. My studio is not one room. It is spread out into the whole of a tiny house.
I flow throughout the spaces that surround me, indoors and outdoors. Each space plays a crucial role in nurturing my creative mind. The pics I'm sharing are not of trinkets and what-nots or books or special toys. They are big things. Things that I can put body into. A cozy chair, a sauna, a soaking tub, an outdoor shower. These are the things that I absolutely must have. The things that get me to that place in my mind where I can let go. The place in my mind where creativity happens.
What a great way of talking about your space! It really is in the entire space that the work is created. The small things add comfort and inspiration, but the spaces we can, as you said, put body in, are highly influential to the creative spirit.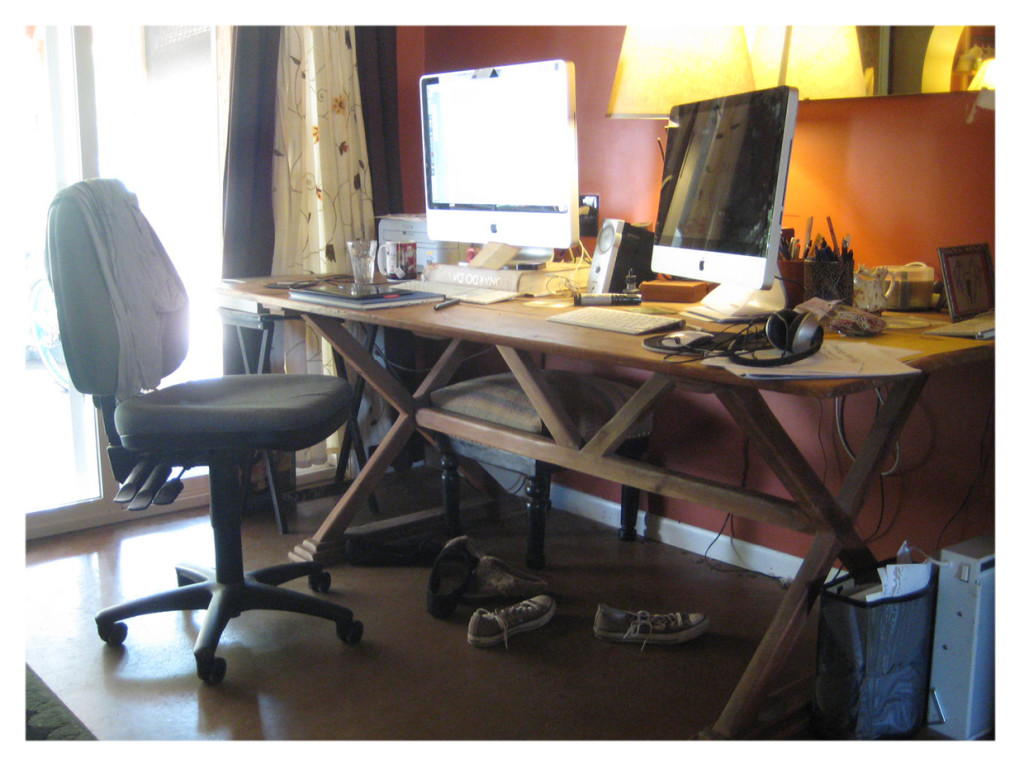 Please tell us about a time you had the most fun working in your studio.
I took a bunch of giant newsprint and charcoal. I put on some Rammestien (totally opposite to what I normally listen to) and made a huge charcoal mess. It really helped me unclog. I think i should do that again!
Yes! Freestyle art hour—a great way to get unstuck 🙂
Does music influence how you work? What's on your playlist now?
I listen to Brian Eno Radio on Pandora or some Mantra music pretty much all the time.  Towards the end of the day, after work, I might switch to something more upbeat. But while I work, I really have to have quiet music.  Some days I just can't listen to anything.  My thoughts can get really quiet. They almost whisper and any sound is is distracting.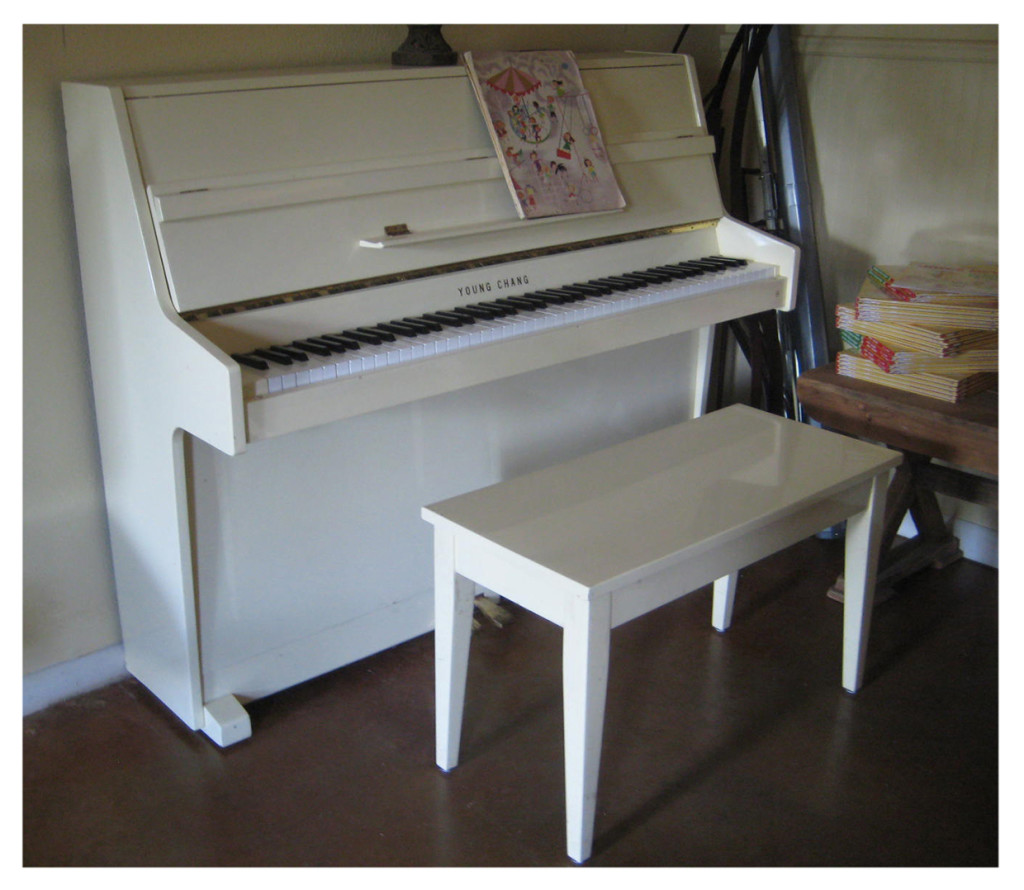 Who are some illustrators that have influenced your work?
As a child, I was completely enchanted by the illustrations of Arthur Rackham. Also, Norman Rockwell and Denise Holly Ulinskas had a huge influence on me.  
This slideshow requires JavaScript.
Is there a favorite drink or food that you have while you work?
For drink, I start my day with a small cup of coffee with cream, then I move on to Earl Grey tea, which is my most fave drink.  Fave food is definitely curry tofu and toasted nori seaweed. And no, i am not a vegetarian.  🙂

What are the three best things about your studio?
My space has two doors that are opposite each other.  I love opening them both and letting the breeze blow through. I love having my animals around me when I work. I have easy access to the outdoors….which is my main source of inspiration.
If you could add a new tool or piece of furniture to your studio, what would it be?Right now, I have everything I need!  But that may change tomorrow.  🙂
What colors inspire your creativity.  Are those colors incorporated in your space?
I do love Yellows, Oranges, Pinks and Greens. I do not care for blues.
What advice do you have for people who want to make a personal space where they can be creative?
My space sort of formed itself around me.  I didn't really plan any of it.
I love when that happens! And especially when it happens so beautifully. 
What's coming up for you and where can we find out more?
My next book FOOD (a sorta sequel to BALL) will be out in Spring 2016.  I have another book called Frankie that I have "almost" sold that I'm really excited about.  And, I may be doing one more one-word book titled TOY, similar to BALL and FOOD.  But that will be the last of the one word books I think. You can find me at http://www.marysullivan.com.
Thanks, Mary! I look forward to seeing your upcoming books. Frankie looks so lovable!