I was introduced to Australian author and illustrator Tania McCartney through her 52-week Illustration Challenge, in which people create a new illustration each week and post it on the challenge's Facebook page. Tania set the challenge at the beginning of 2014 to saturate herself with as much artistic inspiration as possible, and she asked if others would like to join her. Now halfway through the year, there is over 2000 members! The 52-week Illustration Challenge has been so successful that Tania was recently invited by Arts Brookfield–one of the world's largest exhibitors of art in public spaces–to curate pieces from challenge submissions to be used in an art exhibit March 2015 taking place in Perth.
Each week has a theme, so on any given week you can peruse the site and see hundreds of interpretations on the theme. It's an inspiring challenge, both to get feedback and support on your own work, as well as to see the work of so many talented artists. Tania  writes for both adults and children and is the founder of Kids' Book Review–the number one children's literature site on the web. This week's Tuesday Tours features her beautiful studio, which is full of light and color — I can almost hear the birds singing out her window when I look at the pictures!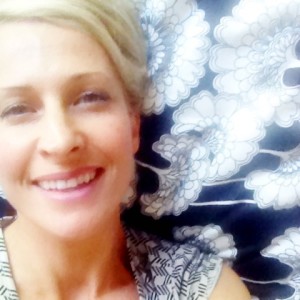 Tell us a little bit about yourself and your creative medium.
I'm an Australian author of both kids and adult books. I live and breathe books; I'd eat them, or even live in one, if I could. They're my everything. I've lived and worked in France, England and China, as well as almost every Australian state, but currently live in Canberra with my gorgeous family—husband and two kids aged 11 and 14. I'm really fortunate to be a full-time creator, and I work from our sunny, quiet home.
My creative mediums are words, pictures and paper—all three a lifelong obsession. I drew a lot as a child and young adult, but writing took over in my adulthood. I've been writing professionally for over 25 years now, in varying genres from magazine feature articles to reviews, picture books, history books, and both fiction and non-fiction (adult, young adult, middle and junior).
Picture books are my deep obsession and are the reason I've recently returned to illustrating after a 20-year hiatus. One of my career goals is to illustrate some of my own picture book texts, and this is the singular reason I created the 52-Week Illustration Challenge—to hone my long-lost skills. Well, that, and the desire to immerse myself in beautiful imagery and reconnect with my heart and soul! My artistic mediums are varied but I'm quickly settling into two distinct niches—digital and watercolour/pencil/ink. I love quirky, whimsical pictures, and creating these has brought me untold joy. I would love to explore printing techniques next.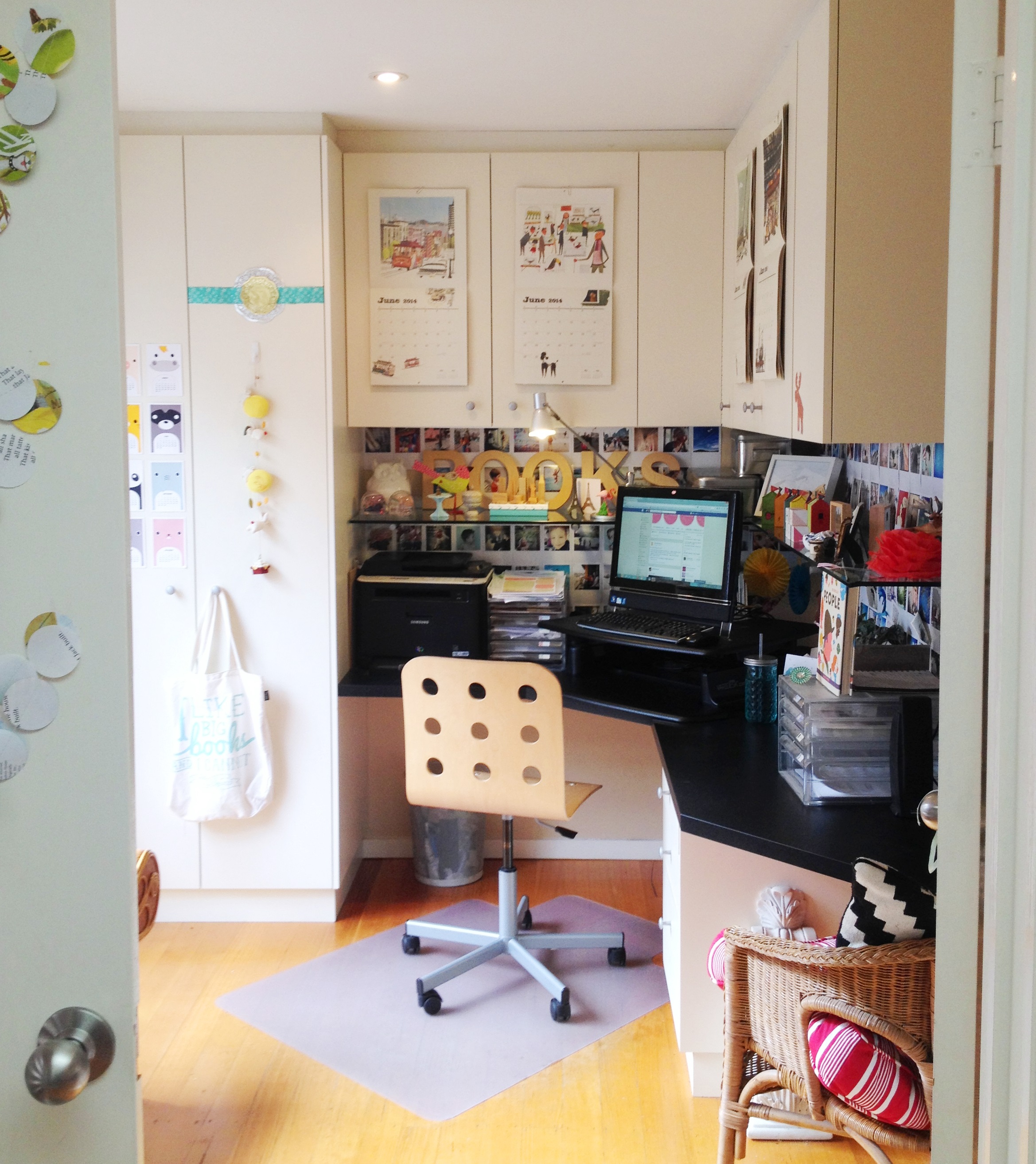 How long have you had your space and how does it affect your creative process?We moved into this house 5 ½ years ago, after four years in China. The silence was deafening! Part of the reason we chose this house was the quiet situation, the established garden, and the beautiful studio at the front of the house. It's the most heavenly place to work in because it's bright and sunny and overlooks our front garden.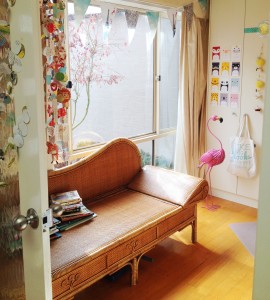 In this space, I'm surrounded by things I adore—photographs, treasures from our travels, cards and notes from beautiful people, a divine rattan settee I snaffled in China for $100, a handcrafted paper mobile with a five-foot drop (created from my papery treasures), and of course, books, books, books. All of these things inspire and uplift me. I feel nurtured in this space and I know this brings out the best in my work. I'm not currently using the space for my artwork, but I hope to reconfigure things a little and change that soon, as I'm currently overtaking our large dining room table and the family has been very patient!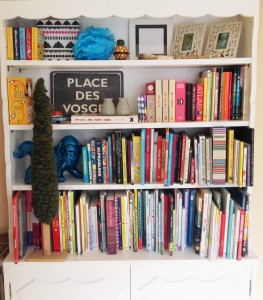 Probably because they get to live amongst all of your beautiful creations!
Are there any kind of rituals you do before you start creating?
I always have a coffee (barista style) or tea (Earl Grey with milk) and a large glass of water. I don't eat while I work, and I need complete silence. I always work at my computer and rarely write anything longhand (seems I've lost that ability!).
I try to exercise (aerobics or yoga or walking) every day before I start working, and I always start my day with a green smoothie—it's serious brain food, and fires my creativity. I've recently invested in a Varidesk—a desktop contraption that allows you to raise your computer screen and type while standing. I try to spend at least half the day standing, if not more. It's vital.
I agree. I think the worst thing about being a writer is all the sitting! I'll have to check into a Varidesk soon.
Is there anything you like to listen to while you're working?
I never play music! It distracts me, alas. I instead listen to the kookaburras or magpies carrying on outside my window.
Is there any special item/trinket in your space that inspires you?
Only one is impossible! But my most precious and most inspirational are our travel photos (which I've printed as polaroids and collaged onto the studio walls). My kid's drawings. Books. My wooden NYC skyline. My terrarium plant. The tiny, bronze See/Hear/Say No Evil statue. My paper mobile. My enormous tin flamingo.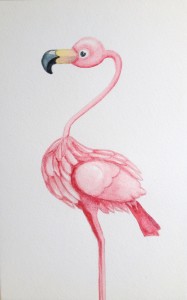 What's your favorite book and what are you reading now?
Eeep. That question's so hard! It's more about creators than books for me—I have creators I'm in love with, and I simply adore anything they produce. They include Serge Bloch, Jen Storer, Blexbolex, Emma Quay, Suzy Lee, Amy Krouse Rosenthal, Miroslav Sasek, Gus Gordon, Lane Smith, among countless others. Two of my favourite book series of all time would be M Sasek's This Is… picture book series from the 1950s and beyond, and The Chronicles of Narnia by CS Lewis. Right now I'm actually reading more adult books than I usually do. On my nightstand are: Empress Dowager Cixi by Jung Chang, The Men Who United the States by Simon Winchester, Cook: from Sailor to Legend by Rob Mundle and Storyteller: The Life of Roald Dahl by Donald Sturrock. I'm about to start the latest Jackie French middle fiction novel, too—I Am Juliet. Oh, and I simply love reading cookbooks.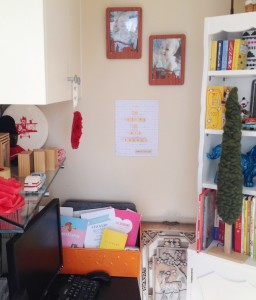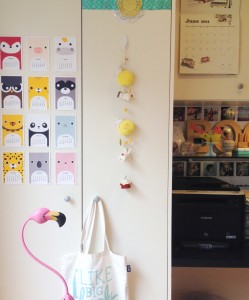 What would you say is the most useful tool in your studio?
My computer. It drinks in all my text and all my imagery (when I'm creating digitally) and it allows me to run my business (and my life) in a virtual way that means I can be home for my kids and still 'travel the world' with my interactions and my collaborations. It's like a magic genie. Whack in some text and imagery—a year or three later—pop! out comes a book, delivered to your door in Real Life. Wonderful stuff.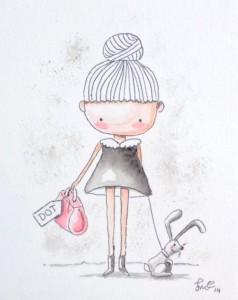 What colors inspire your creativity.  Are those colors incorporated in your space?
Wow, great question. Colour absolutely inspires and affects my creativity. I love lots of white space, which I can then pepper with pops of colour. It's interesting that my penchant for certain colours have changed over the years, as I've developed and changed. I also think we're drawn to colour according to what stage we're going through in our lives. As we reach middle age, we're deeply drawn to creativity, and, sure enough, I've rekindled a love of yellow and orange of late, which are highly creative colours.
My all-time favourite colour is pale green (I wore it for my wedding—this raises eyebrows, but it was truly beautiful!) and I also adore duck-egg blue and snippets of red. My studio has little pops of multi-coloured fragments everywhere, and I can't explain why, but this just makes me happy. And happiness makes for much creativity.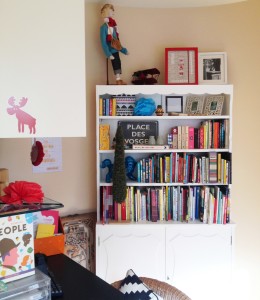 Yes! Happiness and creativity go hand-in-hand.
What advice do you have for people who want to make a personal space where they can be creative?
Try to designate a space you can close off and call your own (ie: not the dining room table or a corner of the living room). If you can't dedicate an actual room, perhaps consider making this space a corner in your bedroom, so you can still 'close it off' if you need to. Closing that door and immersing is so important because it not only limits distractions and puts you in auto-creative mode, it makes it clear to family/housemates/colleagues that this is important to you—that you absolutely need and deserve the time and space to create.
Great advice!  I know how much closing the door has helped me in my own work.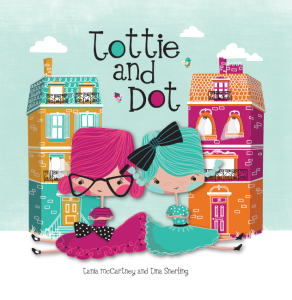 Any news that you'd like to share? Where can we find out more?
I'm delighted to be releasing my thirteenth book this September (lucky 13!). It's called Tottie and Dot (EK Books) and has been illustrated by my talented friend Tina Snerling. We're also working on our next book, Peas in a Pod, out 2015.
I'm a National Library of Australia house author, and my next book with them, This is Captain Cook, will be out March 2015. It's illustrated by another talented friend, Christina Booth. My next exciting project is one I'm writing and illustrating—it will be on Australian designer Florence Broadhurst. Other than that, I have another three picture books in production, a large publisher is considering my first illustrated picture book, and I'm continuing to work on both Kids' Book Review (which I founded in 2009) and the 52-Week Illustration Challenge. I was thrilled to be asked by Arts Brookfield (Perth) to curate a public exhibition of Challenge artwork, which will be shown at Brookfield Place next March. It's kind of huge, and it's hard to believe all that is happening with the Challenge, after such humble beginnings. But then, such is the power of creativity! You can find out more at www.taniamccartney.com, www.kids-bookreview.com, and check out the 52-Week Illustration Challenge at www.facebook.com/groups/418616991575037.
Thanks, Tania! Good luck with all of your projects. I hope to make it out to Australia sometime and maybe even meet you, but until then, I'll enjoy seeing your artwork on the Challenge page!